The Sign for Home: A Novel (Hardcover)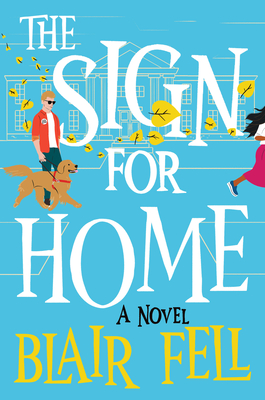 I have so much love for this book and hope that others do too. I was captivated by the first two lines on the back cover: "Arlo Dilly is young, handsome, and eager to meet the right girl. he also happens to be DeafBlind, a Jehovah's Witness, and under the strict guardianship of his controlling uncle." I WAS SOLD, and thankfully, this book did not disappoint. Blair fell has been an ASL interpreter for nearly 30 years, so his writing is accurate. he is also a talented storyteller. this book is written from the perspective of Arlo and one of his interpreters, Cyril. I love the character development and the story line. I love the unexpected friendships that evolve into family.
— Emily Anne G. - customer
April 2022 Indie Next List
---
"Unforgettable and completely unique! Fell illuminates DeafBlind life in Arlo Dilly, who will steal your heart as he journeys to experience life and independence, and to break free of those who have been holding him back. A must read!"
— Maxwell Gregory, Madison Street Books, Chicago, IL
Description
---
When Arlo Dilly learns the girl he thought was lost forever might still be out there, he takes it as a sign and embarks on a life-changing journey to find his great love—and his freedom.

Arlo Dilly is young, handsome and eager to meet the right girl. He also happens to be DeafBlind, a Jehovah's Witness, and under the strict guardianship of his controlling uncle. His chances of finding someone to love seem slim to none.

And yet, it happened once before: many years ago, at a boarding school for the Deaf, Arlo met the love of his life—a mysterious girl with onyx eyes and beautifully expressive hands which told him the most amazing stories. But tragedy struck, and their love was lost forever.

Or so Arlo thought.

After years trying to heal his broken heart, Arlo is assigned a college writing assignment which unlocks buried memories of his past. Soon he wonders if the hearing people he was supposed to trust have been lying to him all along, and if his lost love might be found again.

No longer willing to accept what others tell him, Arlo convinces a small band of misfit friends to set off on a journey to learn the truth. After all, who better to bring on this quest than his gay interpreter and wildly inappropriate Belgian best friend? Despite the many forces working against him, Arlo will stop at nothing to find the girl who got away and experience all of life's joyful possibilities.
About the Author
---
Blair Fell writes and lives in Jackson Heights, New York, with his partner. Blair's television work includes Queer as Folk, and the Emmy Award–winning California Connected. He's written dozens of plays including the award-winning plays Naked Will, The Tragic and Horrible Life of the Singing Nun, and the downtown cult miniseries Burning Habits. His personal essays have appeared in HuffPost, Out, Daily News (New York), and more. He's a two-time winner of the prestigious Doris Lippman Prize in Creative Writing from the City College of New York, including for his early unfinished draft of The Sign for Home. Concurrently with being a writer, Blair has been an ASL interpreter for the Deaf since 1993, and has also worked as an actor, producer, and director.
Praise For…
---
*The 2022 Pride Reading List: 72 New Books to Read All Year*
— Goodreads

"As if complex characters, a compelling voice, smart stylistic choices, and the fierce defense of diversity, accessibility, and equality were not enough, THE SIGN FOR HOME also immersed me in an engrossing and important conversation I knew too little about. I closed this book more enlightened, more engaged, and more hopeful than I was when I opened it, and I enjoyed every page along the way."
— Laurie Frankel, New York Times bestselling author of ONE TWO THREE

"Fell writes with a deep compassion and keen attention to the experiences of living with deafness and blindness. This heartfelt romance is hard to resist."
— Publishers Weekly

"A unique coming-of-age romance."
— Buzzfeed

"Tender, hilarious and decidedly uplifting."
— BookPage

"Poignant . . . . Riveting"
— Los Angeles Times

*April's Most Anticipated*
— The Millions

"Reading THE SIGN FOR HOME will cause you to experience many emotions, from indignation to horror to heartbreak. Ultimately, though, this is a novel about the power of love --- not just romantic love but the love that evolves from friendship. It's a beautiful story that's powerfully told."
— BookReporter.com