The Inheritance of Orquídea Divina: A Novel (Hardcover)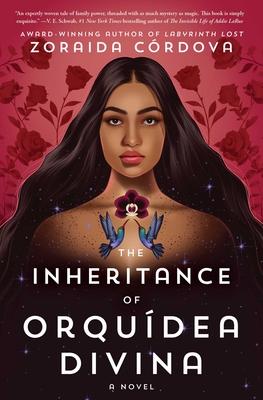 $27.00
This title is currently unavailable for order.
Staff Reviews
---
The cosmic battle between good and evil plays out, not on the grand scale, but within a family where love, longing and belonging have consequences beyond the ordinary. This enchanting tale of magical realism grabs the reader from the first page and doesn't let go. With unforgettable characters and surprises twisting like stems and roots throughout the story, this book is almost impossible to put down. (OK, I got so involved, I totally forgot my husband and I were going out, until he came to get me.) For fans of Isabel Allende and Erin Morgenstern.
— Lia
September 2021 Indie Next List
---
"This story sparkles and enchants! It's a rich and layered multigeneration saga featuring strong women and a mystery veiled in magical realism that will tease and feed your imagination."
— Grace Rajendran, University Book Store, Seattle, WA
Description
---
NATIONAL BESTSELLER

Perfect for fans of Alice Hoffman, Isabel Allende, and Sarah Addison Allen, a family searches for the truth hidden in their past in this "expertly woven tale of family power, threaded with as much mystery as magic" (V.E. Schwab, #1 New York Times bestselling author).

The Montoyas are used to a life without explanations. They know better than to ask why the pantry never seems to run low, or why their matriarch won't ever leave their home in Four Rivers—not for graduations, weddings, or baptisms. But when Orquídea Divina invites them to her funeral and to collect their inheritance, they hope to learn the secrets that she has held onto so tightly their whole lives. Instead, Orquídea is transformed into a ceiba tree, leaving them with more questions than answers.

Seven years later, her gifts have manifested in different ways for Marimar, Rey, and Rhiannon, granting them unexpected blessings and powers. But soon, a hidden figure begins to tear through their family tree, picking them off one by one as it seeks to destroy Orquídea's line. Determined to save what's left of their family and uncover the truth behind their inheritance, her descendants travel to Ecuador—to the place where Orquídea buried her secrets and broken promises and never looked back.

Alternating between Orquídea's past and her descendants' present, The Inheritance of Orquídea Divina is a "spellbinding tale, both timeless and fresh, that will stay with you long after you've turned the last page. Prepare to fall in love" (Kim Liggett, New York Times bestselling author).
About the Author
---
Zoraida Córdova is the acclaimed author of more than a dozen novels and short stories, including the Brooklyn Brujas series, Star Wars: Galaxy's Edge: A Crash of Fate, and The Inheritance of Orquídea Divina. In addition to writing novels, she serves on the board of We Need Diverse Books, is the coeditor of the bestselling anthology Vampires Never Get Old, and is the cohost of the writing podcast Deadline City. She writes romance novels as Zoey Castile. Zoraida was born in Guayaquil, Ecuador, and calls New York City home. When she's not working, she's roaming the world in search of magical stories. For more information, visit her at ZoraidaCordova.com.
Praise For…
---
"An expertly woven tale of family power, threaded with as much mystery as magic. This book is simply exquisite."
— V.E. Schwab, #1 New York Times bestselling author of The Invisible Life of Addie LaRue

"I fell hard for this book. The dynamic, powerful mixture of secrets, stories, and longing that bind families together is Zoraida Córdova's narrative engine, but her ability to evoke landscape and the numinous make The Inheritance of Orquídea Divina feel like an invitation into an enchanted garden."
— Kelly Link, author of Pulitzer Prize–finalist Get in Trouble

"The Inheritance of Orquídea Divina is a stunning homage to the power of ancestors and the legacy they leave behind. A spellbinding tale of magic that is woven across generations, readers will be captivated by the charismatic and unforgettable Montoya family. An enchanting, transporting read!"
— Chanel Cleeton, New York Times bestselling author of The Most Beautiful Girl in Cuba

"Spellbinding! What a pleasure getting to know the Montoyas over generations and landscapes—from Ecuador to New York City to the mythical small town of Four Rivers. Zoraida Córdova's undeniable storytelling gift feels propelled by the power of ancestors. These larger-than-life characters embrace like family. An immersive and enchanting treat."
— Kali Fajardo-Anstine, author of National Book Award finalist Sabrina & Corina

"A bloody and beautiful inheritance, Córdova's adult debut delves into the dark legacies ancestors leave behind with the living. Intoxicating and unforgettable."
— Dhonielle Clayton, New York Times bestselling author of The Belles series

"It is a remarkable gift to read the story an author was clearly born to write. Searing, lyrical, melancholy . . . beautiful. The Inheritance of Orquídea Divina captures the very essence of the immigrant story."
— Adriana Herrera, USA Today bestselling author

"Córdova weaves a spellbinding tale, both timeless and fresh, that will stay with you long after you've turned the last page. Prepare to fall in love."
— Kim Liggett, New York Times bestselling author of The Grace Year

"A commandingly propulsive story with a complex writing style that is best enjoyed slowly makes The Inheritance of Orquídea Divina a challenge, but one well worth the time."
— Book Page (starred)

"Lyric and wry, The Inheritance of Orquídea Divina is an innovative novel full of richly memorable characters and an enchanted atmosphere. There's a deep comfort to it, a thorough, luminous hope."
— Tor.com

"[A] radiant adult debut . . . The magic is vivid and yet familiar, and adds to the urgency of the plot . . . [An] inspired and entertaining blend of magical realism and fantasy."
— Publishers Weekly

"The Inheritance of Orquídea Divina is a magical story with complex characters, masterful plotting, and a sprawling family encompassing a range of Latinx experiences. Readers will be captivated."
— Shelf Awareness

"A rich, intergenerational novel steeped in magical realism."
— BuzzFeed Books

"Trust us: You will fall in love with The Inheritance of Orquídea Divina by Zoraida Córdova. This beautiful, magical book tells a story of ancestors and descendants, and the threads that hold them together across time. The story focuses on the Montoyas, a family who is used to not asking questions about their good fortune and mysterious matriarch until Orquídea's death leads to a magical transformation that leaves her descendants with a target on their backs."
— POPSUGAR