Store Updates
Due to the recent surge in COVID-19 cases and the spread of the Omicron variant, WordsWorth Books will now require customers to mask inside our store, regardless of vaccination status. We will continue to offer curbside service for those who prefer not to come into the store. Thank you for your consideration!
Thugs 7 (Part 7 of Thug Series Sneak Preview) (Thugs and the Women Who Love Them #7) (Paperback)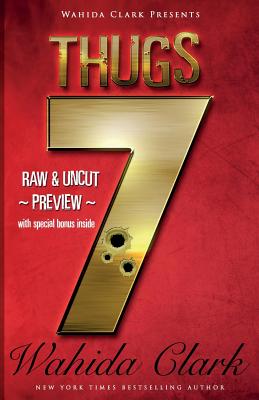 $12.95
Email or call for price
Description
---
THUGS 7: RAW & UNCUT Sneak Preview of the FIRST 5 Chapters of Thugs: Seven (Thugs Series Book 7)
Available Now Be the first to pre-order your copy of Thugs: Seven, Release Date: 11/2019 With your pre-order purchase, you will receive exclusive updates about Thugs: Seven
Romance and Thug Lovin' is at its pinnacle in part 7 of the Thugs and The Women Who Love Them Series. Trae and Tasha fight to hold on to what they have. Kyra has to decide who she will choose: her unborn baby or Rick, Angel has to pledge her love to Kaylin once again while Jaz and Faheem try to start all over again while mourning the loss of his murdered son. Will the couples be able to protect their marriages?
I promised to deliver the first 50 pages to the sizzling Thugs: Seven, but on top of that, since we are relaunching WCP, I am introducing to you some A-1 Talented Team Writers.
In the e-book, you get to check out chapters from upcoming and just released titles.
So you get today for Preordering Thugs: Seven by Wahida Clark . . .
A Sneak Peek into:
o Pink Panther Clique by Aisha Hall
Jamila Davis Sunshine Smith-Williams and Wahida Clark
o Pretty Boy Hustlers by Victor L. Martin
o Black Senate by Zaid Zahid
o Sincerely The Boss by Wahida Clark & Amy Morford
o Butterfly Bitch by Wahida Clark & Michael A. Robinson
o THOT by Alah Adams
o Heat by MeccaGlobal
o One Last Deadly Play by Flo Anthony
o Thuggz Valentine by Wahida Clark
So, for your patience and loyalty, you get all of these goodies rolled into one.