Mycroft Holmes (Mass Market)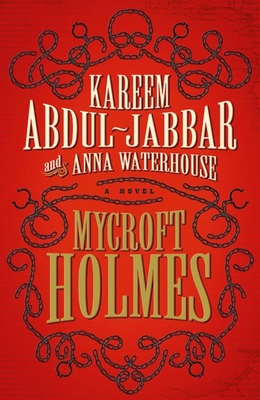 $7.99
Special Order - Subject to Availability
Other Books in Series
This is book number 1 in the MYCROFT HOLMES series.
Description
---
The bestselling novel starring Sherlock Holmes's enigmatic brother, from NBA legend Kareem Abdul-Jabbar.

Fresh out of Cambridge University, the young Mycroft Holmes is already making a name​ ​for himself in government, working for the Secretary of State for War. Yet this most British of civil servants has strong ties to the faraway island of Trinidad, the birthplace of his best friend, Cyrus Douglas, a man of African descent, and where his fiancée Georgiana Sutton was raised.

Mycroft's comfortable existence is overturned when Douglas receives troubling reports​ from home. There are rumors of mysterious disappearances, strange footprints in the sand, and spirits enticing children to their deaths, their bodies found drained of blood. Upon hearing the news, Georgiana abruptly departs for Trinidad. Near panic, Mycroft convinces Douglas that they should follow her, drawing the two men into a web of dark secrets that grows more treacherous with each step they take...

Written by NBA superstar Kareem Abdul- Jabbar and screenwriter Anna Waterhouse, Mycroft Holmes reveals the untold story of Sherlock's older brother. This harrowing adventure changed his life, and set the​ stage for the man Mycroft would become: founder of the famous Diogenes Club and the hidden power behind the British government.
About the Author
---
Kareem Abdul-Jabbar is a huge Holmesian--7'2" tall, basketball's all-time leading scorer, and a U.S. cultural ambassador. He's written extensively, including What Color is My World (children's), Brothers in Arms (military history), and On the Shoulders of Giants (black history).
Praise For…
---
"For outsize polymathic energy and accomplishment, Abdul-Jabbar — N.B.A. champion, cultural ambassador, author — rivals Conan Doyle himself." - New York Times

"Abdul-Jabbar and Waterhouse have created a smart origin story for Mycroft that slots neatly onto the shelves next to the original canon." - Los Angeles Times 

"Holmesians will find much to appreciate in the novel's depiction of a character whose mind is as keen as Sherlock's." - Time.com

"If you're only aware of Abdul-Jabbar's skill on the basketball court, get ready—this is an assured novel that fans of Holmes stories (old-school and new) will love." - Barnes and Noble 

"MYCROFT HOLMES is beautifully written and full of intrigue...while still managing to be a lot of fun."- Robert Towne, Oscar-winning screenwriter of Chinatown

"The book is extremely well-written and well-researched, with layers of sensory detail and filmic tableaux...Doylean Easter Eggs are also sprinkled throughout and are presented with a witty subtlety that will delight longtime fans...Mycroft Holmes is a good book and an engaging mystery for Sherlockians and non-Sherlockians alike, but it's a particular delight for aficionados of the Doylean world. Here's hoping Abdul-Jabbar and Waterhouse write many more." - Baker Street Babes

"I'm proud to have worked with Kareem, my friend of many years, on this project! It adds an exciting, new dimension to the life of Sherlock Holmes, and Kareem's passion for history has given the story a new twist." - Leslie S. Klinger, editor, The New Annotated Sherlock Holmes

 "Moving beyond the echo of big-time basketball's cheering multitudes, Kareem Abdul-Jabbar has found an unlikely second career in the quietude of a writer's life.  In his latest literary effort, he indulges his longtime appreciation for the works of Sir Arthur Conan Doyle and gives us a rousing mystery novel featuring Sherlock Holmes' older and smarter brother, Mycroft, while launching a new series of adventures." - Gay Talese, author of A Writer's Life

"With this meticulously researched work, Abdul-Jabbar and Waterhouse have pulled off the near-impossible with MYCROFT HOLMES: given us a novel that will appeal to any fan of good storytelling, an instant classic in the Sherlockian pastiche genre, and a must-read for history buffs. If you love the Holmes brothers, you will love this book.  But more importantly, if you care about history and culture and passion and civil rights, you will love it all the more."- Lyndsay Faye, bestselling author, The Gods of Gotham

"Basketball legend Abdul-Jabbar (Black Profiles in Courage) makes his triumphant adult fiction debut with an action yarn that fills in the backstory of Sherlock Holmes's older and smarter brother, Mycroft. In 1870, the 23-year-old Mycroft, who has a reputation as a daredevil, is serving as a secretary at the War Office when word reaches London of a series of unusual deaths in Trinidad. Someone, or some thing, has been killing children and draining their blood. The locals believe the culprits are supernatural beings known as lougarou, who drain children of their blood, and douen, who leave highly unusual footprints near their victims. The tragic news stuns Mycroft's fiancée, Georgiana Sutton, who immediately sails home to Trinidad. Disobeying her request to stay behind, Mycroft follows Georgiana to Trinidad, where he must exercise his intellect and his innate diplomatic skills to solve the crimes and remain alive. Sherlockians who relish the screen adventures of Cumberbatch and Downey will be particularly entertained." - Publishers Weekly (starred review) 

"Abdul-Jabbar, a Holmesian since his college days, joins forces with Waterhouse to offer a rousing mystery starring Sherlock's older (and smarter) brother, Mycroft, a rising star in the British government. The action begins in 1870 London but quickly moves to Trinidad, where Mycroft's closest friend, Cyrus Douglas, a native of the island, must travel to investigate what some believe is an infestation of douen—tiny supernatural characters who lead children into the clutches of werewolf-like lougarou. Mycroft joins his friend for the trip, and what the two find on arrival—after a near-fatal ocean crossing—isn't supernatural but far more harrowing... The authors hit all the right notes here, combining fascinating historical detail with rousing adventure, including some cleverly choreographed fight scenes and a pair of protagonists whose rich biracial friendship, while presented realistically, given the era (Douglas must sometimes pose as a butler), is the highlight of the book. Yes, Douglas is a sort-of Watson, but a much brighter, more physical, more bantering version, an equal not a foil. Mystery fans will be eager to hear more from this terrific duo, who may well develop into a gaslit version of Robert B. Parker's Spenser and Hawk."-Booklist (starred review)

"The central conceit is audacious; Mycroft's sense of moral outrage is nicely reflective of the era; the historical detail is solid; and the period decorum is well-maintained throughout." - Kirkus Reviews

"Clear space on your new fiction shelf for this slam-dunk of a debut novel. Cowritten by NBA all-star and author Abdul-Jabbar (What Color Is My World?) and screenwriter and producer ­Waterhouse, the team behind the NAACP and Telly Award–winning documentary On the Shoulders of Giants, this latest collaboration brings a fresh voice and broadened scope to the Holmes canon. Historical fiction and mystery fans will be the first to demand this title, but its mass appeal is undeniable." - Library Journal (starred review)

The erudite Jabbar has managed to weave elements of his far flung interests into a fascinating mystery narrative. The briskly written book has a delicate woven plot that brings together such diverse elements as Trinidadian culture and folklore, the tobacco importation business in London,  and the usual Holmesian array of brightly obtuse knowledge and libertine philosophy that Sherlock fans enjoy— not to mention a plot that involves an elaborate scheme to bring slavery back to the Caribbean. By far the star of the novel is Holmes' able accomplice Douglas—as compared to Watson, Douglas is portrayed as an equal instead of a foil. The careful dance of the friendship between the two men of different races, complicated by the laws and conventions of the era, is fascinating.  — Mike Sager, Esquire

"Mycroft Holmes is a 300+ page origin story that nails it… And it's got a solid mystery to boot." –Geek Dad

"Jabbar and Waterhouse have concocted a smooth brew of dark mystery that, for all its gorgeous glossiness (such a lush yet reserved dust jacket), reads like part of the New Pulp movement. It's a clever ret-conning of one of literature's great worlds of mystery" - The Blood Shed

"If you are looking for a mystery with suspenseful action, charming characters, fascinating relationships and fun twists and turns, then this is the novel for you." - Geek Hard Show

"Sure to earn a place in the early canon of the Holmes brothers' tales." - Hypable

"Can this book, despite the cache the author may carry with him, stand on its own in the ever-growing, seemingly non-stop publication of all things Holmes-related? To that, I can answer a definitive yes." - Birth.Movies.Death 

"Mycroft Holmes has added a new wrinkle in the revered Holmes brothers' fan fiction stories – the loner genius versus the collaborative genius – and the contrast is entertaining as it is illuminating."- Pop Mythology 

"Mycroft Holmes sets up its own tension-filled tale of revolt" - Pajiba 

"Rich with historical details and multicultural insights." - Manhattan Book Review  

"It's a fast-paced read, and it is far more emotional than I was expecting it to be" - Book Riot 

"This novel is an interesting and entertaining combination of mystery fiction and historical fiction with a tiny dash of elements found in horror fiction. This combination works well, because all of the elements are in perfect balance and the story flows effortlessly." - Rising Shadow  

"it's so well written, with an intriguing hook, well developed characters, and a great mystery at the center of the story." - Never Anyone Else  

"Suspenseful...compelling" - The Missourian  

"Mycroft Holmes is a fine addition to the canon – compelling, well-plotted, and firmly in possession of a social conscience." - Austin Chronicle 

"well-written and tightly plotted and it features issues of race that we don't typically see in Sherlock Holmes stories. The settings are detailed and immersive" - Fandom Post