RHS Gardening for Mindfulness (Hardcover)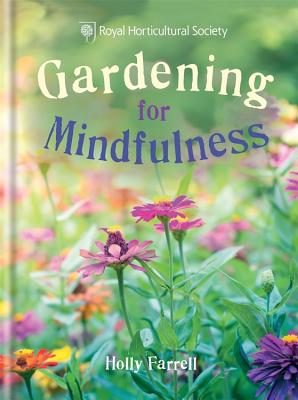 Description
---

Gardening, like mindfulness, is a way of finding a sense of calm in an otherwise chaotic world, a simpler existence, even if it is only for a few minutes. Both forge a connection to the world around us, to nature and wildlife, which can bring pleasure and peace. In this beautifully illustrated guide to gardening for mindfulness, horticulturalist and mindfulness practitioner Holly Farrell provides a blueprint for a more contemplative way to garden, including projects, meditations and inspiration.

Projects for the mindful gardener, including growing something from seed, planting a tree and creating a mandala, put the theory of mindfulness into practice, while plant lists and design ideas aim to enhance mindfulness in the garden through the senses. Beautifully packaged and easy to follow, this is the perfect book for keen gardeners, devotees of mindfulness, or simply those looking for calm in a busy and hectic world.
About the Author
---
Holly Farrell's interest in the beneficial health effects of gardening began at the same time as her interest in gardening: a nasty bout of glandular fever after graduating from university left her longing to get outside. Volunteering in gardens sparked a career change into horticulture and an appreciation of the positive physical and mental impact of working with nature. She spent two years at RHS Gardens Wisley where she gained the Wisley Diploma in Practical Horticulture. Holly is the author of the award-winning RHS Plants from Pips and RHS Miniature Garden Grower, and Planting Plans for Your Kitchen Garden.

The Royal Horticultural Society (RHS) is the UK's largest gardening charity, dedicated to advancing horticulture and promoting good gardening. Its charitable work includes providing expert advice and information, training the next generation of gardeners and promoting the ecological, aesthetic and psychological benefits of gardening in an urban environment.