The Guestroom Novelist: A Donald Harington Miscellany (Hardcover)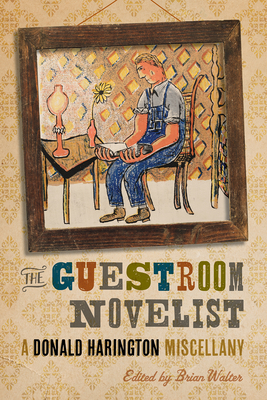 $29.95
Usually Ships in 1-5 Days​
Description
---
Donald Harington, best known for his fifteen novels, was also a prolific writer of essays, articles, and book reviews.
The Guestroom Novelist: A Donald Harington Miscellany gathers a career-spanning and eclectic selection of nonfiction by the Arkansawyer novelist Donald Harington that reveals how a life of devastating losses and disappointments inspired what the Boston Globe called the "quirkiest, most original body of work in contemporary US letters."
This extensive collection of interviews and other works of prose—many of which are previously unpublished—offers glimpses into Harington's life, loves, and favorite obsessions, replays his minor (and not so minor) dramas with literary critics, and reveals the complicated and sometimes contentious relationship between his work of the writers he most admired. The Guestroom Novelist, which takes its title from an essay that serves as a love letter to his fellow underappreciated writers, paints a rich portrait of the artist as a young, middle-aged, and fiercely funny old man, as well as comic, sentimentalist, philosopher, and critic, paying testimony to the writer's magnificent ability to transform the seemingly crude stuff of our material existence into enduring art.
About the Author
---
Donald Harington was born in Little Rock, Arkansas and lost much of his hearing at age twelve due to meningitis. He taught art history in New York City, New England, and South Dakota and, finally, for twenty-two years, at the University of Arkansas. He was the author of fifteen novels and the winner of the Oxford American Lifetime Award for Contributions to Southern Literature, the Robert Penn Warren Award for Fiction, and the Porter Prize for Literary Excellence. Harington achieved more critical than commercial success in his career while always attracting a devoted cult following. The poet Fred Chappell once told the Arkansas Democrat-Gazette, "Don Harington is not an underappreciated novelist. He is an undiscovered continent."

Brian Walter is professor of English at St. Louis College of Pharmacy and the director of Stay More: The World of Donald Harington, and Farther Along: The World of Donald Harington, Part 2. He also appears as an "old coot" interviewer in the last chapter of Harington's final novel, Enduring.
Praise For…
---
"The Guestroom Novelist is a treasure chest for anyone who, like me, considers Donald Harington one of the finest writers of our day, and his Stay More one of literature's most vibrantly inhabited (and in-habited) creations. Over the past ten years, I had become resigned to the idea that I would never see a single new page of his work, but here, between these covers, you'll find hundreds of such pages, full of his insights, judgments, complaints, and celebrations—and, most valuably of all, his extensive commentary, in a series of long interviews, about each and every one of his novels."
—Kevin Brockmeier, author of A Few Seconds of Radiant Filmstrip: A Memoir of Seventh Grade
"One of our country's greatest writers of fiction, Donald Harington's work was lyrical, deeply felt, playful, bawdy and sensual, and in a hidden-in-plain-view manner experimental. In The Guestroom Novelist, editor Brian Walter, a Harington scholar as well as longtime friend, has assembled a lively, clever, impassioned collection of essays, reviews and interviews in which Donald Harrington's vivid intelligence and sense of fun (also, at times, his grievances at the publishing industry that could treat him harshly) are given their head as he discusses writers he admires and examines his own long, ever-evolving career. This book is a deep pool of wonders and treats."
—Peter Straub, author of A Dark Matter, Koko, and Interior Darkness