Paraíso: Poems by (CantoMundo Poetry Series) (Paperback)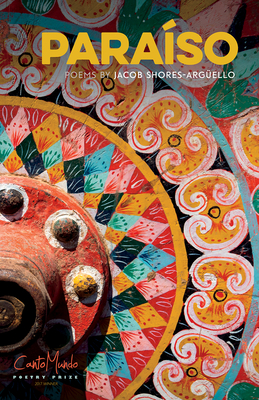 Description
---
Winner, 2017 CantoMundo Poetry Prize

Paraíso, the first book in the new CantoMundo Poetry Series, which celebrates the work of Latino/a poets writing in English, is a pilgrimage against sorrow. Erupting from a mother's death, the poems follow the speaker as he tries to survive his grief. Catholicism, family, good rum . . . these help, but the real medicine happens when the speaker pushes into the cloud forest alone.

In a Costa Rica far away from touristy beaches, we encounter bus trips over the cold mountains of the dead, drug dealers with beautiful dogs, and witches with cell phones. Science fuses with religion, witchcraft is joined with technology, and eventually grief transforms into belief.

Throughout, Paraíso defies categorization, mixing its beautiful sonnets with playful games and magic cures for the reader. In the process, moments of pure life mingle with the aftermath of a death.
About the Author
---
Jacob Shores-Argüello is a Costa Rican American writer. He is the author of In the Absence of Clocks and is the recipient of a Fulbright Fellowship, the Dzanc Books ILP International Literature Award, the Fine Arts Work Center Fellowship, and the Amy Clampitt residency in Lenox, Massachusetts. His work has appeared in the New Yorker, Poetry, and Guernica.
Praise For…
---
"From the opening page of Jacob Shores-Argüello's Paraíso, I noticed how honed and pared his work is. He is a craftsman. His poems are chiseled, sculptural even, and yet they seem to ring an ethereal ring, like glass under a finger. These are poems filled with the surprise and humility of traversing physical geographies (mountains and jungles) but also the geographies of grief, healing, and memory. I am deeply moved by their vulnerability and unending quest for closeness."
—Aracelis Girmay, judge, 2017 CantoMundo Poetry Prize
"Paraíso is a box of spells and games and laments, and a journey between worlds—the US and Costa Rica; the living and the dead. It concerns itself with facts and narratives and reveals where the fabric of narrative is slashed open and the mystery shows through. Ripe with 'stories that tour guides and witches tell,' Jacob Shores-Argüello's second book is immensely compelling and satisfying."
—Beth Ann Fennelly, author of Unmentionable
"'After my mother died, my words broke,' writes Jacob Shores-Argüello in Paraíso, a poignant and beautifully crafted book. His words—clean and tremendous—rupture into grief that's singular, communal. This grief isn't rapturous; it's a reckoning with the self, the familial, the ritualistic, and the 'jungle's green [which] is the wild mind / of God.' Deeply moving and rich with indelible phrasing and imagery, Paraíso is a staggering testament to the bonds love and loss make visible."
—Eduardo C. Corral, author of Slow Lightning
"Shores-Argüello (
In the Absence of Clocks
) returns to his mother's Costa Rican hometown on the occasion of her death in his latest, winner of the inaugural CantoMundo Poetry Prize. The title also references the poet's home—or one of them. In poems displaying consummate craft, Shores-Argüello continues his exploration of the "back and forth" of transnationalism, whereby people experience multiple ways of belonging to multiple locales simultaneously. That belonging is tinged with longing. Stepping from a bus into "the orchid heat," Shores-Argüello asks, "How is it that I have come this far/ with nothing, that I am empty-/ handed in this country of blessings?" The book is equal parts elegy, travel journal, and compilation of recipes, rules, and prayers. Structurally, the open and varied forms of the first and last sections relieve the tension of the formally segregated sonnets of the second section and the couplets of the third. Shores-Argüello records encounters between strangers, loved ones, and new acquaintances, those "little connections" that help the poet both grasp and release "the shaggy wolf called grief." And truths of the Costa Rican cloud forest gleam throughout: "We live in the permeable/ skin of an amphibian, all the world's a frog." Though the collection can sometimes feel too neatly organized, as a whole it works a magic of distraction, reparation, and healing."
—
Publisher's Weekly
, November 2017
"Shores-Argüello (
In the Absence of Clocks
) returns to his mother's Costa Rican hometown on the occasion of her death in his latest, winner of the inaugural CantoMundo Poetry Prize. The title also references the poet's home—or one of them. In poems displaying consummate craft, Shores-Argüello continues his exploration of the "back and forth" of transnationalism, whereby people experience multiple ways of belonging to multiple locales simultaneously. That belonging is tinged with longing. Stepping from a bus into "the orchid heat," Shores-Argüello asks, "How is it that I have come this far/ with nothing, that I am empty-/ handed in this country of blessings?" The book is equal parts elegy, travel journal, and compilation of recipes, rules, and prayers. Structurally, the open and varied forms of the first and last sections relieve the tension of the formally segregated sonnets of the second section and the couplets of the third. Shores-Argüello records encounters between strangers, loved ones, and new acquaintances, those "little connections" that help the poet both grasp and release "the shaggy wolf called grief." And truths of the Costa Rican cloud forest gleam throughout: "We live in the permeable/ skin of an amphibian, all the world's a frog." Though the collection can sometimes feel too neatly organized, as a whole it works a magic of distraction, reparation, and healing."
—
Publisher's Weekly
, November 2017
"Through the scrim of the foreign and the known, Shores-Argüello explores the state in which we are simultaneously awake and dreaming, the grief-state in which we both misplace and find ourselves. Paraíso is a masterful reopening of that ancient mythos of paradise lost and regained, just in time for the 21st century."
—Ruben Quesada,
Oxford American
, December 2017
"The Costa Rican–American poet Jacob Shores-Argüello is another fabular shape-shifter, whose forays into cross-cultural spaces, fluid identities, and what he calls "magic rationalism" mark him as Simic's kindred spirit. Paraíso, his second collection — selected by Aracelis Girmay for the inaugural CantoMundo Poetry Prize celebrating Latinx writing and published by the University of Arkansas Press in 2017 — follows In the Absence of Clocks, winner of the Open Competition Award of the Crab Orchard Series in Poetry and published by Southern Illinois University Press in 2012. Written in part as a response to a Fulbright year in Ukraine, the first book has as a narrative subtext the Orange Revolution of 2004–2005, during which political corruption surrounding a Ukrainian presidential election inspired a series of ultimately successful protests from the people. But as the book's title suggests, its story is not bound by a single set of circumstances or chronology. Any one unsettling tale of injustice, violence, and usurpation touches all others; time, place, and people change and blend as Shores-Argüello's pilgrim narrator journeys from Eden to Chernobyl, from the Missouri River to "the Dnieper's delicate music," exploring the toxicity of cruelty and the vicissitudes of love, family, and history."
—Lisa Russ Spaar, Los Angeles Review of Books, July 2018