São Bernardo (Paperback)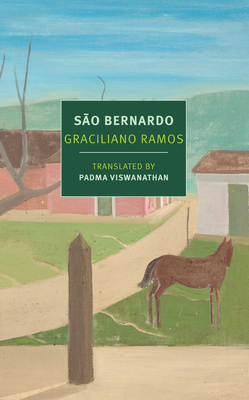 $15.95
Coming Soon - Available for Pre-Order Now
Description
---
A masterwork about backcountry life by one of Brazil's most celebrated novelists.

In 1941, a national literary poll in Brazil named Graciliano Ramos one of the country's ten greatest novelists—one of only four living authors on the list. His reputation has only increased there in the sixty years since his death. Brazilian readers fight over which of his novels is their favorite. Now St. Bernardo, his second-to-last novel, has been freshly translated for North American readers. This gritty, dryly funny book tells the story of Paulo Honório, a field hand who learns to read and write in jail, emerging with the ambition of buying and restoring to greatness the now-decrepit property where he was once a day laborer. St. Bernardo, named for his ranch, is the memoir of his rise and fall, written in his own rough-hewn voice. Flavored with subtle ironies and rich local idioms, St. Bernardo will appeal to readers of William Faulkner and Juan Rulfo, anyone who loves a tragicomic story of a striving outsider and self-made man, ruthless and tender in turns.
About the Author
---
Graciliano Ramos (1892–1953) was a writer, politician, and journalist. He spent most of his life in Palmeira dos Índios, in northeast Brazil, where he owned a general store and served as the mayor. In 1936, Ramos was arrested and imprisoned on a penal island. He was most likely suspected of being a Communist. After his release from prison, he published his most famous novel, Barren Lives.

Padma Viswanathan's debut novel, The Toss of a Lemon, has been published in eight countries and was a finalist for several prizes. Her second novel, The Ever After of Ashwin Rao, was a national bestseller in Canada and was short-listed for the Scotiabank Giller Prize. Her short fiction and nonfiction work has been published in several outlets, including Granta, the Boston Review, Elle (Canada), and Guernica. She teaches creative writing at the University of Arkansas.
Praise For…
---
"Viswanathan, through her soulful translation, breathes new life into Ramos's slangy, unvarnished, beguilingly funny prose.  Honorio's voice might be gruff, but it also sings." —Eric Puchner

"If we were to take stock of Brazilian writers from the first half of the twentieth century—from among those writers who produced the most relevant parts of their oeuvre in the first half of the twentieth century—and ask which writer has had the greatest impact and influence on the way Brazilian writers write today, I have no doubt that the name of Graciliano Ramos would make the top of the list." —Paolo Scott, Asymptote