Serial Killer Coloring Book: An Adult Coloring Book With 40 Infamous Serial Killers (Paperback)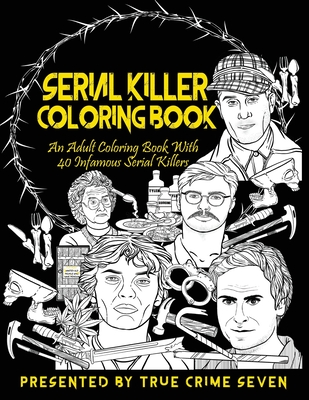 Description
---
Murderino - Here is a coloring book made for you.
Where horror meets reality. An adult coloring book not for the faint of heart
This unique coloring book features notorious deviants and blood-thirsty human monsters who shocked the world with their dastardly deeds.
If true-crime podcasts have ever piqued your curiosity or you find yourself fascinated by the accounts of some of the world's most intriguing crime stories, you've undoubtedly wished you knew more.
Now is your chance to immerse yourself into their dark, twisted worlds from the safety of your own homes or wherever you feel the most creative.
Meet the murderers up close and personal. Color their faces. Look into their eyes. Feed your fascination and discover nuances you might not have ever noticed before.
In this serial killer coloring book, you'll find:
40 drawings of infamous serial killers.
Accurate symbolism matching each killer and their crimes.
The birthdate, birthplace, and horoscope of each killer.
Single-sided pages, so you don't have to worry about bleeding colors.
Horror and true crime fans are sure to find something that intrigues them in this book. It makes for the perfect gift for fans of true-crime podcasts and serial killer stories.
This bone-chilling coloring book features illustrations of infamous serial killers such as:
Ted Bundy
John Wayne Gacy
Jeffrey Dahmer
Gary Ridgway
David Parker Ray
And many more
Pick up your favorite crayons or coloring pencils and sink your teeth into the world of infamous serial killers today