The Other Mothers (Hardcover)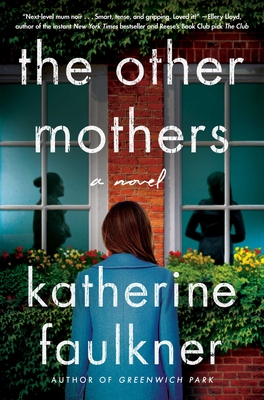 December 2023 Indie Next List
---
"The Other Mothers was a wonderful exploration into imposter syndrome and what it's like trying to fit in, but also how quickly it happens when you don't even realize you're trying to do it. I loved Sophie's POV as well. Very well written!"
— Amy Williams, As The Page Turns, Travelers Rest, SC
Description
---
The author of the "twisty, fast-paced" (The Sunday Times, London) Greenwich Park returns with a fresh and deftly paced thriller about murder, class, and motherhood in an exclusive London community.

When a young nanny is found dead in mysterious circumstances, new mom, Tash, is intrigued. She has been searching for a story to launch her career as a freelance journalist. But she has also been searching for something else—new friends to help her navigate motherhood.

She sees them at her son's new playgroup. The other mothers. A group of sleek, sophisticated women who live in a neighborhood of tree-lined avenues and stunning houses. The sort of mothers Tash herself would like to be. When the mothers welcome her into their circle, Tash discovers the kind of life she has always dreamt of—their elegant London townhouses a far cry from her cramped basement flat and endless bills. She is quickly swept up into their wealthy world via coffees, cocktails, and playdates.

But when another young woman is found dead, it's clear there's much more to the community than meets the eye. The more Tash investigates, the more she's led uncomfortably close to the other mothers. Are these women really her friends? Or is there another, more dangerous reason why she has been so quickly accepted into their exclusive world? Who, exactly, is investigating who?
About the Author
---
Katherine Faulkner, an award-winning journalist, studied history at Cambridge. She has worked as an investigative reporter and an editor and was formerly the joint Head of News at The Times (London). She lives in London, where she grew up, with her husband and two daughters. She is the author of The Other Mothers and Greenwich Park.
Praise For…
---
"[A] menace-infused thriller . . . Faulkner is a pro at ever-so-gradually ratcheting up the tension bit by tiny, spine-tingling bit. And, as the narrative deftly swings between timeframes . . . we get a vertiginous view of just how tightly a group of people's lives can be inexorably twisted together. Faulkner pulls out all the psychological-thriller stops—and then some." —Kirkus Reviews (Starred Review)

"Fans of Ashley Audrain and Chandler Baker will enjoy the similar themes of motherhood, the unspoken parts of women's relationships, desire, envy, and heart-pounding suspense. The alternating timelines build anticipation but the twists will keep readers guessing to the last page."—Library Journal

"Next-level mum noir, The Other Mothers is a brilliant portrayal of the complexities of parenthood, work and - oh yes - murder. Smart, tense and gripping. Loved it!" —Ellery Lloyd, author of New York Times bestseller and Reese's Bookclub pick The Club

"Katherine Faulkner unpeels Fornasetti wallpaper and opens glass box extensions, revealing delectably dislikeable characters, secrets - and murder. The Other Mothers is The Undoing meets Big Little Lies. A fast-paced, decadent skewering of upper middle-class motherhood." —Abigail Dean, author of New York Times bestseller Girl A

"A super-smart thriller… I was utterly captivated by the way this novel reeled me in, slowly revealing the layers of the wonderfully intricate plot. Smart, slick, and highly recommended." —Sarah Bonner, author of the number one New York Times bestselling Her Perfect Twin

"Once again, Katherine Faulkner so masterfully delivers a delicious combination of treacherous secrets and enviable lives, this time among a group of upper class moms whose perfection unravels after Tash, a new mom to the playgroup and struggling journalist, realizes things aren't quite what they seem. I couldn't part with this book until I'd finished—THE OTHER MOTHERS is the elevated, devourable thriller you've been looking for." —Ashley Audrain, New York Times bestselling author of The Push

"The Other Mothers is a first-class thriller, with taut prose, gasp-worthy twists and characters you'll love to hate. Faulkner has done it again - fans of Greenwich Park won't be disappointed." —Robin Morgan-Bentley, author of The Wreckage and The Guest House

"A highly addictive and whip-smart tale, The Other Mothers strips the surface from Insta-perfect lives to reveal a deeply unsettling reality. I couldn't turn the pages fast enough! " —Teresa Driscoll, author of the international bestseller I am Watching You