Calm the Chaos: A Fail-Proof Road Map for Parenting Even the Most Challenging Kids (Paperback)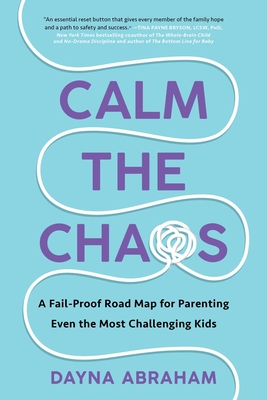 Description
---
A simple, fail-proof road map for parents raising even the most challenging children from the founder of the life-changing Calm the Chaos methodology and the Lemon Lime Adventures blog.

Strong-willed, spirited, explosive, and highly sensitive are just a few of the most common labels for challenging kids. Whether your child has been diagnosed with a behavioral condition, labeled, or is just harder than other children you've met, you are in luck. Parenting expert, Dayna Abraham is here to help.

Calm the Chaos is a clearly organized, methodical approach to parenting. Dayna has created a road map to help parents find peace and meet their kids where they are at when conventional parenting tools have failed. There are five steps to calming the chaos—Getting to Safety, Restoring Trust and Energy, Finding Calm in the Moment, Getting Ahead of the Moment, and Defining Family Success. Each step employs a framework that is easy to remember, even when emotions run high: you ground yourself, you connect with your kid, you work with them to understand the catalyst and the issue at the heart, and then together you get curious about finding an empowered solution.

Backed by science and tested by hundreds of thousands of families, Calm the Chaos is a revolutionary road map complete with in-the-trenches stories, scripts, prompts, and worksheets that make it simple for parents to build a safe home and support healthy kids.
About the Author
---
Dayna Abraham has become a trusted and proven leader in the parenting community. An award-winning, national board-certified educator who has spent over ten years in the classroom, she is the founder of the popular parenting site Lemon Lime Adventures which has accumulated over 41 million viewers in less than seven years. She is also the CEO of Calm the Chaos, a seven-figure company which offers Dayna's compassionate framework to support thousands of parents worldwide. Her social media has a weekly reach of over 1.2 million people, and her Calm the Chaos free workshop has an attendance rate of over 200,000 people. Her work has also been showcased in HuffPost, Babble, Scary Mommy, BuzzFeed, ADDitude Magazine, and Positive Parenting Solutions. She is also the author of Superkids Activity Guide to Conquering Everyday and Sensory Processing 101.
Praise For…
---
"In a conversational, relatable way, Abraham helps families create safety through love for their high-needs child so each member can move from surviving to thriving. Calm the Chaos will be a fabulous tool for anyone seeking to give their child the power to be who they were born to be." —Bookpage

"Calm the Chaos is truly a gift to parents who are looking to understand their child's behavior and offer them the support they need. If parents are frustrated, overwhelmed or just looking for a few action items to get started with parenting their child through new lenses, this book is a perfect starting point. Dayna Abraham honors advances in neuroscience and shares this knowledge in parent-friendly language. With all the parenting advice out in the world today, there are numerous tips and strategies throughout the book where a parent may say 'Hey, I can actually do that!'. This book is smart, authentic and leaves the reader with takeaways that they can implement immediately in their households." —Greg Santucci, MS, OTR Executive Director, Power Play Pediatric Therapy

"A compassionate program… The exercises are pragmatic, and Abraham's account of learning to help her own son, who threw screaming fits so severe his principal threatened to turn him over to the police when he was in second grade, attests to her hard-won expertise. Overwhelmed parents will find this a boon." —Publisher's Weekly

"Parents, this is the book we've all been waiting for. Dayna Abraham's compassion for parents who are at the end of their rope and kids who don't quite fit the mold is unprecedented. Where conventional parenting tactics trap families in a cycle of disconnection and mistrust, Calm the Chaos sets families free from power struggles – and the heartaches that go along with them. Using small, digestible steps and enlightening illustrations, Abraham equips parents to uncover the root cause of challenging behaviors so they can respond in ways that foster growth in their child and peace in their family." —Rachel Macy Stafford, New York Times bestselling author of Hands Free Mama, Only Love Today, and Soul Shift

"Just when a parent feels at wits end, Calm the Chaos comes along like a true friend. This long needed book provides a straightforward and non judgmental way for understanding even the most challenging behaviors of children and how to approach them in an accessible and supportive manner. Having experienced major child challenges herself, Abraham understands well what it is like for parents in these very hard to handle situations with their children. The book provides an empowering, clear and compassionate path for helping your child, helping yourself as a parent, and moving forward in the most positive way. I am glad this book has arrived!" —Tovah P. Klein, Ph.D. Director, Barnard College Center for Toddler Development and author of How Toddlers Thrive

"In Calm the Chaos, Dayna Abraham has thoughtfully considered just about every tricky scenario parents might be navigating with their differently wired kids. The relatable examples, doable actions, game-changing reframes, and sweet visual doodles bring her roadmap to life in a way that feels accessible even for the most overwhelmed parent." — Debbie Reber, founder & CEO Tilt Parenting, author Differently Wired

"This book is bound to help parents of challenging children feel seen and supported. It also offers hope and a path forward." —Joanna Faber and Julie King, Coauthors of How To Talk When Kids Won't Listen

"If you've got a Chaos Causer (or two) in your home, get this book! With warm wisdom, Dayna Abraham leads you to restore calm and help your children love who they are, accept others, see how they can fit into the world, and develop values. Her method employs tiny steps to determine the challenge du jour, take care of yourself, connect with the child, understand the underlying reason for the chaos-producing behavior, and empower everyone to build a joyful family team. You can do it, Dayna says. You got this!" —Carol Stock Kranowitz, M.A., author of The Out-of-Sync Child: Recognizing and Coping with Sensory Processing Differences

"Calm the Chaos offers a practical road map for exhausted, frustrated parents who are navigating challenging behaviors. With compassion and clarity, Dayna Abraham has devised a 5 phase program to help adults and kids of all ages work together to leave behind outdated behavioral advice, and instead focus on regulation and restoring connection. This book is an essential reset button that gives every member of the family hope, and a path to safety and success. " —Tina Payne Bryson, LCSW, Ph.D., New York Times bestselling co-author of The Whole-Brain Child & No-Drama Discipline, and author of The Bottom Line for Baby

"This book is incredible. Calm the Chaos gives parents, teachers, and anyone working with kids evidence-based, practical strategies for addressing every hot button behavior issue. Dayna Abraham has masterfully woven together her experiences as an educator and a mother to create a one of kind resource that is simple to use in real time. Best of all, it is filled with real hope for helping everyone thrive." —Michele Borba, Ed.D., author of Thrivers and UnSelfie