Brother Dog: Southern Tales and Hollywood Adventures (Hardcover)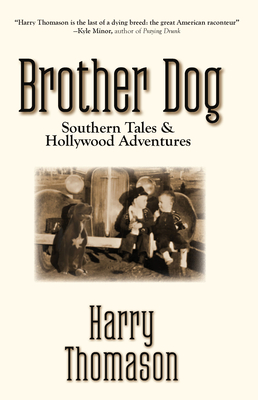 Description
---
A humor-laced episodic memoir, Brother Dog is the story of a working-class childhood in the rural South during the 1950s and 60s, striving to become a filmmaker on an ever-expanding stage, helping elect a friend to the presidency, and anecdotal encounters with Chuck Berry, Prime Minister Tony Blair and other luminaries, all rich in imagery, grit, and humor.
About the Author
---
Harry Thomason's meteoric rise from coaching high school sports in Arkansas to producing feature films in Hollywood and rubbing shoulders with presidents is a seeming Horatio Alger tale of toil, sweat, ingenuity, and success. Together with his wife, Linda Bloodworth Thomason, he produced the hit CBS TV series, Designing Women. Thomason's credits include producer of six feature films, two presidential inaugurations, and more. Harry Thomason lives in Encino, California.
Praise For…
---
"Magic, longing, fear, insecurity, bravado, dreams—
all the things that make up our upbringing. Harry Thomason has written a collection of stories that cover it all.  It'll take you back to your own special set of memories and at the same time lose yourself in his."
— Billy Bob Thornton
"Harry Thomason is the last of a dying breed: the great American raconteur"
— Kyle Minor, author of "Praying Drunk"
"Brother Dog includes some of the sweetest memories I have ever read. Thomason reminded me of my childhood in Connecticut—never wearing shoes all summer—where an abandoned bed in a dusty attic became my nightly domain. These stories are so powerful and bring back such happy times."
— Hal Holbrook
"Harry Thomason's life stories are warmly recounted, luminously detailed, and universally appealing."
— Jimmy Neil Smith, Founder of the National Storytelling Festival, Founder and President Emeritus of the International Storytelling Center
"I read Brother Dog in one sitting; I couldn't put it down. It is a perfect antidote to the times we live in. Wisdom—as it can only be expressed in stories—shines through in every chapter. Often wickedly funny, Thomason's stories speak lovingly of parents who taught him to see the best in even the most lost souls. A pleasure of the highest order!"

 
— Markie Post, film and TV actress
"Harry Thomason's memoir takes us from the haunting stillness of a mid-century Arkansas night (with a serial killer on the loose) to the set of The Tonight Show (with a future President on the sax). It's a sometimes-gentle sometimes-wild ride through the century, with the good-hearted Coach Thomason as a guide."
— Jeffrey Toobin, CNN commentator and author
"Do you like an old-fashioned yarn which happens to be true? This
book's for you.
"Everyone has a story, but Harry Thomason has bushels of good ones
which he tells with characteristic insight, humor and more than a few
surprise endings. Kick off your shoes, find a comfortable chair and
soak in these fun, funny and unforgettable true tales steeped deep in
the Southern storytelling tradition."
— Peter Johnson, author, former USA Today Columnist