Store Updates
Due to the recent surge in COVID-19 cases and the spread of the Omicron variant, WordsWorth Books will now require customers to mask inside our store, regardless of vaccination status. We will continue to offer curbside service for those who prefer not to come into the store. Thank you for your consideration!
Brain on Fire: My Month of Madness (CD-Audio)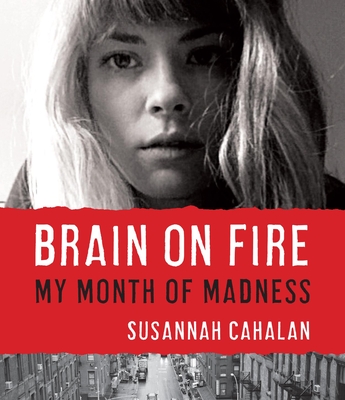 $32.95
Email or call for price
November 2012 Indie Next List
---
"A young reporter's near-death experience started with what seemed to be a bedbug bite, followed by an out-of-character migraine. Cahalan forgot a pitch meeting. She snooped on her boyfriend's email. Beloved newspaper clippings were tossed. Garbage piled up in her apartment. And then the seizures began. This compelling story of one woman's descent into madness and the equally horrifying journey of her family to find suitable help works both as a great literary memoir as well as a well-reported medical mystery. You might say the result is Girl, Interrupted with a dash of The Hot Zone and a sprinkling of The Exorcist!"
— Daniel Goldin, Boswell Book Company, Milwaukee, WI
Description
---
One day, Susannah Cahalan woke up in a strange hospital room, strapped to her bed, under guard, and unable to move or speak. Her medical records—from a month-long hospital stay of which she had no memory—showed psychosis, violence, and dangerous instability. Yet, only weeks earlier she had been a healthy, ambitious twenty-four-year-old, six months into her first serious relationship and a sparkling career as a cub reporter.
 
 Susannah's astonishing memoir chronicles the swift path of her illness and the lucky, last-minute intervention led by one of the few doctors capable of saving her life. As weeks ticked by and Susannah moved inexplicably from violence to catatonia, $1 million worth of blood tests and brain scans revealed nothing. The exhausted doctors were ready to commit her to the psychiatric ward, in effect condemning her to a lifetime of institutions, or death, until Dr. Souhel Najjar—nicknamed Dr. House—joined her team. He asked Susannah to draw one simple sketch, which became key to diagnosing her with a newly discovered autoimmune disease in which her body was attacking her brain, an illness now thought to be the cause of "demonic possessions" throughout history.
 
 With sharp reporting drawn from hospital records, scientific research, and interviews with doctors and family, Brain on Fire is a crackling mystery and an unflinching, gripping personal story that marks the debut of an extraordinary writer.
About the Author
---
SUSANNAH CAHALAN is a news reporter at the New York Post whose award-winning work has also been featured in The New York Times. She lives in Jersey City, New Jersey.
HEATHER HENDERSON has brought her authentic, resonant voice and a full cast of characters (from a Scots nanny to a Fargo housewife) to hundreds of projects during her 20-year career. She earned her doctorate at the Yale School of Drama, and her credits include production dramaturgy on the world premiere of August Wilson's Fences. She has published arts features and reviews in newspapers across the U.S. and has won awards for poetry and screenwriting. What seems to impress people most, though, is that she was an extra in Animal House.
Praise For…
---
"A fast-paced and well-researched trek through a medical mystery to a hard-won recovery."
—Publishers Weekly
"Echoing the blend of memoir and journalism, narrator Heather Henderson modulates the story's shifting emotional undercurrent with her careful use of tone and pacing. . . . Henderson's voice is crisp, clear, and remarkably unfazed by the . . . medical terminology."
—AudioFile
"A remarkably well-written and well-read account."
—Booklist