Roberta: A Most Remarkable Fulbright (Paperback)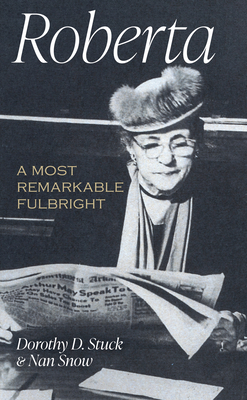 $27.54
Email or call for price
Description
---
Obscured in history by her internationally renowned son, Sen. J. William Fulbright, Roberta Waugh Fulbright was, nonetheless, an extraordinary person deserving of tribute. Here, finally and fittingly, is her biography-a sensitive portrait of a complex woman who was one Arkansas's dominant figures.
Traditional mother of six children, gardener, thinker, and provocative conversationalist, Roberta Fulbright became a sudden widow at age forty-nine. She eventually took charge of the inherited, fragmented, business holdings, originally assembled by her husband, Jay, and molded them into a multi-enterprise family firm. As such, she emerged as an influential newspaper publisher and columnist, bank president, savvy business owner, and conscientious civic crusader. Through her own self-confidence and canny business sense, she became a formidable competitor in Fayetteville's male-dominated business establishment. Her resolve was reflected in her signature column in the Northwest Arkansas Times, "As I See It":
So long as a woman does poorly and the lords of creation can say, "Oh, it's nothing but a fool woman," they are fairly content, for they must, every mother's son of them, have a woman to do much of the work. But let a woman do WELL and she is all but burned at the stake. I will say for the benefit of those who may be interested, I did not choose business as a career, it was thrust upon me. I did choose it in preference to going broke or dissipating my heritage and that of my children.
Intensely interested in politics, Fulbright challenged a corrupt local political machine and, later took on governor, producing a chain of events leading to he4r son's election to Congress. In her column, she extolled the virtues of women's talents, and she campaigned for an equal right for women in public life. In doing so, she was a moving force for acknowledgement of women in nontraditional roles, long before feminism became a movement.
Stuck and Snow have produced a brisk, lively story, drawing from a genealogical records, numerous interviews of family members, business associates, and friends, and the almost two million words written by Fulbright in her column. Renowned southern historian Willard B. Gatewood Jr. has said of this work: "I really appreciate [the authors'] treatment of [Roberta] as a person— inquisitive, assertive, benevolent, etc. They have captured superbly the family matriarch, incessant thinker and talker, the indulgent grandmother, and gifted gardener. This is truly a good 'read' and represents a highly significant achievement."