Jim Harrison: Complete Poems (Hardcover)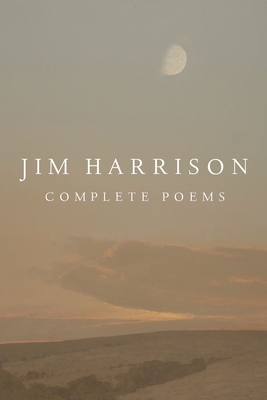 $50.00
This title is currently unavailable for order.
Description
---
Editors' Choice Selection, The New York Times Book Review
** Starred Reviews ** in Library Journal and Booklist
"This robust volume is a testament to the fortitude of a great American poet's work... a] landmark collection."--Raul Ni o,
Booklist, starred review
" E]ven the readers who know him may not know that Harrison began as a poet and remained one for the rest of his life....
Jim Harrison: Complete Poems
is] a massive and bounteous body of work that would have made Harrison a significant American writer even if he had never published in any other genre."--
The New York Times Book Review,
Editors' Choice
"In a collection that spans decades of living and writing, there are poems of every character, many of them superb."--
Library Journal,
starred review
"This densely rich book...places Harrison among the pantheon of our best American poets." --
New York Journal of Books
"I've always loved Jim Harrison's poetry--so full of itself, so direct and hungry and angered and awed. I think of him in many ways as a religious poet and was surprised that he was excluded from Harold Bloom's anthology
American Religious Poems.
It seemed quite the oversight."--Joy Williams,
The Paris Review
"That's what makes his poetry so intimate: the sense that it comes to us without filter, without the expectations or necessity of narrative. It is why I will always think of Harrison, most of all, as a poet."--David Ulin,
Alta
"When
Jim Harrison: Complete Poems
] arrives in the mail I stare at it for a time a little dumbfounded. It is gorgeous and it is massive.... The next day I carried it north with me to the Flathead Indian Reservation. I am teaching poetry to fourth- and fifth graders there. At the beginning of each of four classes I held the book up for everyone to see. We passed it around so everyone could feel its heft, see the photo on the back cover of the grizzled poet, his eyes turned down, drawing on the ubiquitous cigarette. I described it as a physical representation of a life devoted to poetry and how wonderful that is. I was asked how long it will take me to read the whole thing. 'A lifetime, ' I answer."--Chris La Tray,
The Missoulian
"Harrison described his own work as '(c)rude, holy, natural, political, sexual, ' and page after page here he hits those notes time and again."--
Pittsburgh Post-Gazette
"The publication of the
Jim Harrison: Complete Poems
will be the major poetic event of the season."-- Paul Yamazaki,
City Lights Booksellers
"Jim Harrison's poems have a vitality, range, and revelation equal in importance to the more widely known fiction. A pitch-perfect field guide, Harrison scouts with full sense of kinship and acrobatic powers of both language and imagination his life's landscapes, events, and fellow creatures. His direct, chiselled statements of thought, feeling, and invention make the world bigger in every dimension."-- Jane Hirshfield, Ploughshares
"Some of the poems are funny, some are serious, and many are bawdy, but none will disappoint a reader." --Bill Castanier, Lansing City Pulse

"To say that Harrison's Complete Poems is Shakespearian in scope is probably an exaggeration, but only a little. Harrison certainly had far more time than the Bard to devote to his literary endeavors. . . . There is no denying the power and influence of his ghazals of the early 1970s, and if his voracious appetite for experience offends some readers, it's clear he was one of the major poets of the last six decades, someone who believed "'in the Resurrection mostly / because he was never taught how not to.'"--California Review of Books


From the Introduction by Terry Tempest Williams: "Jim Harrison...was among the great ones--an elevated soul in all his unruliness who favored his senses and courted the wild on the page and in the world. His was a storied life that loomed large, and we are the beneficiaries. 'Such a powerful wounded poet--wrote as if he had to sing with a cut throat . . . and he did have to sing, ' said Jorie Graham."
Jim Harrison: Complete Poems
is the definitive collection from one of America's iconic writers. Introduced by activist and naturalist writer Terry Tempest Williams, this tour de force contains every poem Harrison published over his fifty-year career, as well as a section of previously unpublished "Last Poems." Here are the nature-based lyrics of his early work, the high-velocity ghazals, a harrowing prose-poem "correspondence" with a Russian suicide, the riverine suites, fearless meditations inspired by the Zen monk Crazy Cloud, and a joyous conversation in haiku-like gems with friend and fellow poet Ted Kooser. Weaving throughout nearly 1000 pages are Harrison's legendary passions and appetites, his love songs and lamentations, and a clarion call to pay attention to the life you are actually living.
Jim Harrison: Complete Poems
confirms that Jim Harrison is a talented storyteller with a penetrating eye for details, or as
Publishers Weekly
called him, "an untrammeled renegade genius... a poet talking to you instead of around himself, while doing absolutely brilliant and outrageous things with language."
The Heart's Work: Jim Harrison's Poetic Legacy
: The Heart's Work is a multi-book, multi-year publishing project by Copper Canyon Press to secure and advance Jim Harrison's poetic legacy. To date, books published as part of the The Heart's Work include
The Essential Poems
,
Collected Ghazals
(with afterword by Denver Butson),
Jim Harrison: Complete Poems
(produced as both a single volume and a three-volume box set, with introductions by Terry Tempest Williams, Colum McCann, Joy Williams, and John Freeman), and the paperback printing of
Dead Man's Float
. New projects forthcoming
Limited Edition Box Set:
Jim Harrison: Complete Poems
also appears as a three-volume box set. (The ISBN for the box set is 9781556596414.) Print run was limited to 750 copies. Each volume is introduced by a different writer: Colum McCann, Joy Williams, and John Freeman. As of March 2022, the box set is sold out and has been listed out-of-print. Copies may be available from the publisher.
First Edition Points:
Please note that there is no indication of first edition on the copyright page of the single volume of
Jim Harrison: Complete Poems
. To confirm a first edition, check the attribution on the poem "She" (page 886): First editions have only a single attribution,
Alta, 2021,
and all subsequent printings also include the attribution
Bozeman Daily Chronicle, 2016
.
About the Author
---
Jim Harrison (1937-2016) was the author of over three dozen books, including Legends of the Fall and Dalva, and served as the food columnist for the magazines Brick and Esquire. He published fourteen volumes of poetry, the final being Dead Man's Float (2016), which appeared a few months before his death. His work has been translated into two dozen languages and produced as four feature-length films. As a young poet he co-edited Sumac magazine with fellow poet Dan Gerber, and earned fellowships from the National Endowment for the Arts and the Guggenheim Foundation. In 2007, he was elected into the Academy of American Arts and Letters. Regarding his most beloved art form, he wrote: "Poetry, at its best, is the language your soul would speak if you could teach your soul to speak." Jim Harrison certainly spoke the language.