Lost Boy Found (Deckle Edge) (Paperback)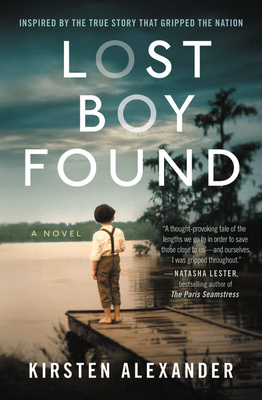 Description
---
Perfect for fans of the NYT bestseller Sold on a Monday, this Southern historical novel based on the true story of a boy's mysterious disappearance examines despair, loyalty, and the nature of truth.

In 1913, on a summer's day at Half Moon Lake, Louisiana, four-year-old Sonny Davenport walks into the woods and never returns.

The boy's mysterious disappearance from the family's lake house makes front-page news in their home town of Opelousas. John Henry and Mary Davenport are wealthy and influential, and will do anything to find their son. For two years, the Davenports search across the South, offer increasingly large rewards and struggle not to give in to despair. Then, at the moment when all hope seems lost, the boy is found in the company of a tramp.

But is he truly Sonny Davenport? The circumstances of his discovery raise more questions than answers. And when Grace Mill, an unwed farm worker, travels from Alabama to lay claim to the child, newspapers, townsfolk, even the Davenports' own friends, take sides.

As the tramp's kidnapping trial begins, and two desperate mothers fight for ownership of the boy, the people of Opelousas discover that truth is more complicated than they'd ever dreamed.
About the Author
---
Kirsten Alexander is a co-founder of the short story site Storymart, co-founder and editor of the digital journal Open Field, and has worked as a nonfiction book editor, copywriter, and article writer (for the Age, Daily Beast, Notebook, Melbourne Weekly, and others). She has also been a reviewer for ABC Radio National's The Book Show, a magazine section editor, and content manager for several sites.

Kirsten was born in San Francisco, raised in Brisbane, and lives in Melbourne with her partner and two sons. Lost Boy Found is her debut novel.
Praise For…
---
Part historical fiction, part suspenseful thriller, this one explores the role of social class in justice, and will make you hug your own little ones extra tight.—Good Housekeeping

"No shortage of twists . . . Lost Boy Found comes to a chilling conclusion, but the book's empathy and detailed portrait of a time and place are equally resonant."—LitHub