Recipe for a Perfect Wife: A Novel (Paperback)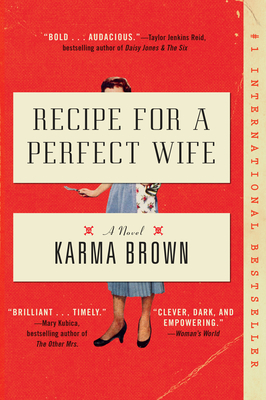 Description
---
#1 INTERNATIONAL BESTSELLER

"Recipe for a Perfect Wife is a bold, intoxicating, page-turner. Karma Brown has long been a favorite of mine and this book is proof she just keeps getting better and better. This is a thrilling, audacious story about women daring to take control."—Taylor Jenkins Reid, New York Times bestselling author of Daisy Jones & The Six

In this intriguing dual narrative novel, a modern-day woman finds inspiration in hidden notes left by her home's previous owner, a quintessential 1950s housewife. As she discovers remarkable parallels between this woman's life and her own, it causes her to question the foundation of her own relationship with her husband—and what it means to be a wife fighting for her place in a patriarchal society.

When Alice Hale leaves a career in publicity to become a writer and follows her husband to the New York suburbs, she is unaccustomed to filling her days alone in a big, empty house. But when she finds a vintage cookbook buried in a box in the old home's basement, she becomes captivated by the cookbook's previous owner—1950s housewife Nellie Murdoch. As Alice cooks her way through the past, she realizes that within the cookbook's pages Nellie left clues about her life—including a mysterious series of unsent letters penned to her mother.

Soon Alice learns that while baked Alaska and meatloaf five ways may seem harmless, Nellie's secrets may have been anything but. When Alice uncovers a more sinister—even dangerous—side to Nellie's marriage, and has become increasingly dissatisfied with the mounting pressures in her own relationship, she begins to take control of her life and protect herself with a few secrets of her own.
About the Author
---
KARMA BROWN is the author of five novels: the #1 national bestseller Recipe for a Perfect Wife; Come Away with Me (a Globe and Mail Best Book of 2015); the Globe and Mail and Toronto Star bestsellers The Choices We Make and In This Moment; and The Life Lucy Knew. She is also the author of bestseller The 4% Fix: How One Hour Can Change Your Life. An award-winning journalist, Karma has been published in SELF, Redbook, and Today's Parent, among others. She lives just outside Toronto with her husband, daughter, and a Labradoodle named Fred.
Praise For…
---
"It's easy to keep turning the pages as we toggle back and forth between Alice and Nellie, who — breaking news — has a far more complicated life than a stack of Ladies' Home Journals would lead Alice to believe. . . . And it turns out Nellie has a lot more to teach Alice about being a wife and a woman than how to bake a good batch of cookies. The most important? Take those trappings you resent so much — cooking, gardening, bearing children — embrace them, then wield them like weapons."
—Jenny Rosenstrach, New York Times Book Review

"A captivating read, full of twists and turns. Brown weaves a thrilling story that parallels the lives of two characters who struggle with being strong, independent women in a patriarchal world."
—Associated Press

"Brown kills it; her latest is a winner so captivating that fans of modern and old-fashioned stories about women could easily read it in one day."
—Library Journal, starred review

"Recipe for a Perfect Wife is a bold, intoxicating, page-turner. Karma Brown has long been a favorite of mine and this book is proof she just keeps getting better and better. This is a thrilling, audacious story about women daring to take control."
—Taylor Jenkins Reid, New York Times bestselling author of Daisy Jones & The Six

"[Brown] excels at bringing the complexities of women's lives to the page, and her latest novel questions how much has really changed for women over the last 60 years. The pacing is brisk, the characters are appealing, and both time lines are equally well realized. Thoughtful, clever, and surprisingly dark."
—Booklist

"Recipe for a Perfect Wife masterfully bridges the lives of two women, living sixty years apart, who refuse to fall victim to the patriarchy. While Karma Brown's signature style remains, it's laced with something sinister and dark. A brilliant, brooding, timely novel, fraught with tension, that packs a punch. Brown knows how to keep readers riveted until the very last page."
—Mary Kubica, New York Times bestselling author of The Good Girl

"Strong, well-drawn women anchor Brown's deeply thought-provoking, feminist novel. The spellbinding dual stories complement each other, raising themes of self-discovery, self-preservation and liberation for two women living eras apart."
—Shelf Awareness

"A sly, smart look at two women across two different decades as they navigate marriage, secrets, and society's expectations. Brown's vivid storytelling deftly explores the joys and limitations of the role of wife – a wonderful read."
—Fiona Davis, national bestselling author of The Chelsea Girls

"Brown skillfully alternates between Alice's modern world and Nellie's in the 1950s. With plentiful historical details (including recipes and depressingly hilarious marriage advice), the pages devoted to Nellie come to life. . . . An engaging and suspenseful look at how the patriarchy shaped women's lives in the 1950s and continues to do so today."
—Kirkus 

"I already knew that Karma Brown's contemporary novels are exemplars of thoughtful, compelling, and truly original fiction. What I didn't know before reading Recipe For a Perfect Wife is that she is equally at home when writing historical fiction. In her hands, the constrained and often suffocating lives of 1950s women--illuminated in a deftly handled dual narrative that alternates between the present day and 60 years ago — are revealed with real sensitivity, depth, and at times tenderness. And true to Karma Brown, this is also a nail-biter of a tale, and one that kept me up long past my bedtime. This is a delicious and thoroughly satisfying book." 
—Jennifer Robson, bestselling author of The Gown

"Karma Brown has outdone herself with best book yet.  Dual storylines set decades apart offer one of the most emotionally stirring explorations of women's lives I have ever read. Recipe for a Perfect Wifeis page-turning look at identity, love, legacy, marriage, and yes--food. I devoured it!"
—Jamie Brenner, bestselling author of Drawing Home

"[A] captivating novel. . . . Clever, dark and empowering."
—Woman's World

"Recipe for a Perfect Wife is as witty, charming, and insightful as anything Karma Brown has written to date, but it's also got something more: it cuts straight to the heart of modern marriage by going back in time. Flawless transitions between past and present remind us of how far we've come while Brown's penetrating prose deftly underscores the importance of staying the course on the journey ahead.  This timely novel is alarming and unforgettable, illuminating and ominous—and perfect for your next book club discussion!"
—Marissa Stapley, bestselling author of The Last Resort

"Recipe for a Perfect Wife is that wonderful combination of fun to read, thought provoking, and mystery. Told in the voices of two women living in different decades and sprinkled with recipes and advice on how to be a good wife, it makes the reader consider how the roles of women have changed and how they've stayed the same. Karma Brown made me smile and gasp in equal measure, and to reach for my mom's old recipe box."
—Ann Hood, author of The Knitting Club

"Recipe for a Perfect Wife is a time-hopping, dark domestic mystery, sprinkled with a dash of female empowerment and a few vintage baking tips. . . . Recipe for a Perfect Wife ends in a wonderfully sly way, best served without any spoilers, other than to say that sometimes history does repeat itself."
—Toronto Star

"A positively captivating story awaits you in Recipe For A Perfect Wife. . . . A page turner from start to finish."
—Seattle Book Review

"As always, Brown entertains as she provokes thought and discussion. Perfect Wife is not as straightforward as it seems at first glance . . . (We won't reveal the intriguing plot twist.) Let's just say that Nellie brings an increasingly sinister and unexpected element to the plot, which is all the richer for it."
—The Florida Times-Union

"Readers will enjoy watching both women take charge in their lives no matter what the cost."
—The Parkersburg News & Sentinel