The Third Wife: A Novel (Paperback)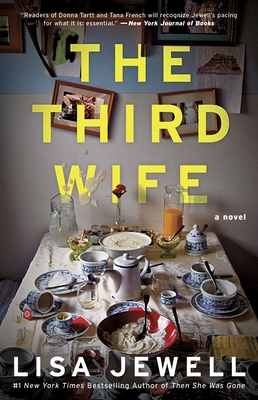 Description
---
Fans of Liane Moriarty and Jojo Moyes will be captivated by this riveting family drama with a dark mystery at its core, from the New York Times bestselling author of Then She Was Gone.

In the early hours of a summer morning, a young woman steps into the path of an oncoming bus. A tragic accident? Or suicide?

At the center of this puzzle is Adrian Wolfe, a successful architect and grief-stricken widower, who, a year after his third wife's death, begins to investigate the cause. As Adrian looks back on their brief but seemingly happy marriage, disturbing secrets begin to surface. The divorces from his two previous wives had been amicable, or so it seemed; his children, all five of them, were resilient as ever, or so he thought. But something, or someone, must have pushed Maya over the edge.

"Jewell's last few novels have been a revelation—emotionally sophisticated and complex," says Kirkus Reviews. "Like Liane Moriarty, she manages the perfect blend of women's fiction and nail-biting suspense," hails Booklist. The Third Wife is "an emotionally intelligent, brilliantly plotted, and beautifully written examination of a very modern family that will keep you gripped to the end" (London Daily Mail).
About the Author
---
Lisa Jewell is the #1 New York Times bestselling author of nineteen novels, including The Family Upstairs and Then She Was Gone, as well as Invisible Girl and Watching You. Her novels have sold over 5 million copies internationally, and her work has also been translated into twenty-eight languages. Connect with her on Twitter @LisaJewellUK, on Instagram @LisaJewellUK, and on Facebook @LisaJewellOfficial.
Praise For…
---
Praise for The Third Wife:

"Lisa Jewell presents us with yet another emotionally intelligent, brilliantly plotted and beautifully written examination of a very modern family that will keep you gripped to the end.... Take this to the beach, or indeed anywhere — I promise you won't regret it."
— Daily Mail (London)

"Jewell's last few novels have been a revelation—emotionally sophisticated and complex—and this latest, which gradually rewrites the history of a 'perfect' family, is a fine follow-up.... Taut pacing and complicated characters shape this rich examination of the modern family."
— Kirkus Reviews

"Jewell excels at juggling multiple perspectives to slowly peel back the layers of supposed domestic bliss. Like Liane Moriarty, she manages the perfect blend of women's fiction and nail-biting suspense, throwing enough red herrings in the reader's path to keep the pages turning."
— Booklist

"A great choice for readers seeking a mystery with a blended family twist."
— Library Journal

"...reminded us of Liane Moriarty's Big Little Lies."
— Ft. Worth Star-Telegram

"The Third Wife is a summer gem. The story is complex… the many characters well drawn.... Readers of Donna Tartt and Tana French will recognize Jewell's pacing for what it is: essential."
— NY Journal of Books

"The Third Wife explores complicated family dynamics in a genuine way that is witty yet realistically nuanced."
— Shelf Awareness

Praise for The House We Grew Up In

"Clever, intelligent, and believable on a subject few of us really understand. Lorrie is one of the most vivid—and complex—characters I've read in years. Wonderful."
— Jojo Moyes, author of Me Before You

"You'll be desperate to find out what messed this family up so badly."
— Sophie Kinsella, author of Shopaholic to the Stars

"...prose so beautiful that it glitters on the page. Lisa Jewell lays down piece after piece of mosaic, revealing the heart of the Bird family, filled in equal measure with love and loss. Unforgettable."
— Jo-Ann Mapson, author of Solomon's Oak, Finding Casey, and Owen's Daughter

"A gorgeous, powerful, affecting tale of a family both ordinary and extraordinary. Lisa Jewell is a wonderful storyteller, and The House We Grew Up In grips you from the first page to the last. I'm afraid to say it made me neglect both my children and my husband. The Bird family might be dysfunctional, but I was strangely sorry to leave it."
— Anna Maxted, author of Getting Over It and Running In Heels

"Jewell cleverly frames the destruction of the Bird family ….an absolute page-turner."
— Booklist