Big Nate Out Loud (Paperback)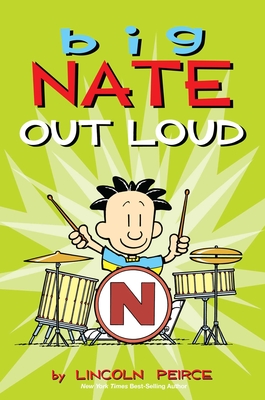 Other Books in Series
This is book number 2 in the Big Nate series.
Description
---
Now an animated series with Paramount+ and Nickelodeon!

In this follow up to New York Times best-seller Big Nate: From the Top, eleven-year-old Nate Wright is living OUT LOUD and he wouldn't have it any other way!

Even though his friends won't let him be the lead singer in their band, Nate continues to rock. He's a superstar of the comics pages and of the best-selling series of Big Nate books and he's a big hit with kids everywhere. This collection features full-color daily and Sunday strips that originally appeared in newspapers.
About the Author
---
 Lincoln Peirce has been drawing the Big Nate comic strip for more than 20 years. Born in Ames, Iowa, Peirce grew up in Durham, New Hampshire. As a kid, he began creating his own strips in the sixth grade. Peirce taught high school in New York City and has created several animated pilots for Cartoon Network and Nickelodeon. He lives in Portland, Maine, with his family.
Praise For…
---
"Some kids want the fast-paced and artistic excitement of graphic novels and this one's excellent.  It's funny and full of adventure. Any middle schooler will love this book. It's packed with humor." (Cerjio Vasques-Mejia, 7th grade, Atlanta Parent magazine)

"In addition to the graphic storytelling, Nate's cartoons interspersed among Peirce's panels could provide teachers and librarians with great opportunities to incorporate this series into programs or lessons on cartooning and writing." (Snow Wildsmith, Booklist)

"…if you're looking for a new series to introduce your kids to this upcoming holiday season, chances are they'll really like these collections." (Rich Johnston, Bleeding Cool)

"Big Nate is super funny. I love these books." (Appeal-Democrat)