Keeper of the Lost Cities (Paperback)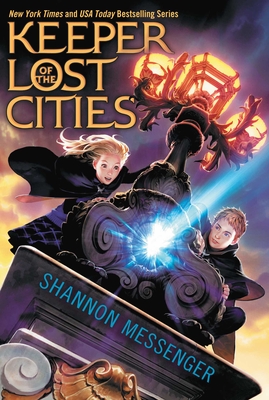 Description
---
A New York Times bestselling series
A USA TODAY bestselling series
A California Young Reader Medal–winning series

In this riveting series opener, a telepathic girl must figure out why she is the key to her brand-new world before the wrong person finds the answer first.

Twelve-year-old Sophie has never quite fit into her life. She's skipped multiple grades and doesn't really connect with the older kids at school, but she's not comfortable with her family, either. The reason? Sophie's a Telepath, someone who can read minds. No one knows her secret—at least, that's what she thinks…

But the day Sophie meets Fitz, a mysterious (and adorable) boy, she learns she's not alone. He's a Telepath too, and it turns out the reason she has never felt at home is that, well…she isn't. Fitz opens Sophie's eyes to a shocking truth, and she is forced to leave behind her family for a new life in a place that is vastly different from what she has ever known.

But Sophie still has secrets, and they're buried deep in her memory for good reason: The answers are dangerous and in high-demand. What is her true identity, and why was she hidden among humans? The truth could mean life or death—and time is running out.
About the Author
---
Shannon Messenger graduated from the USC School of Cinematic Arts, where she learned—among other things—that she liked watching movies much better than making them. She's studied art, screenwriting, and film production, but she realized her real passion was writing stories for children. She's the New York Times and USA TODAY bestselling author of the award-winning middle grade series, Keeper of the Lost Cities, as well as the Sky Fall series for young adults. Her books have been featured on multiple state reading lists, published in numerous countries, and translated into many different languages. She lives in Southern California with her family—and an embarrassing number of cats. Find her online at ShannonMessenger.com.
Praise For…
---
"A delightful and dangerous adventure with complex characters and relationships you'll root for to the end of time." —Lisa McMann, New York Times bestselling author of THE UNWANTEDS

"Keeper of the Lost Cities is a little bit Alice's Adventures in Wonderland, a little bit Lord of the Rings, and a little bit Harry Potter. And it's all fun!" —New York Times bestselling author Michael Buckley

"A large and varied cast of supporting characters and an intriguing premise contribute to make this an exciting start to a promising series." —Booklist

"A slew of interesting and well-drawn characters, careful plotting, and just plain good storytelling will have readers racing through the pages." —School Library Journal