Store Updates
Due to the recent surge in COVID-19 cases and the spread of the Omicron variant, WordsWorth Books will now require customers to mask inside our store, regardless of vaccination status. We will continue to offer curbside service for those who prefer not to come into the store. Thank you for your consideration!
The Book Supremacy (Large Print / Paperback)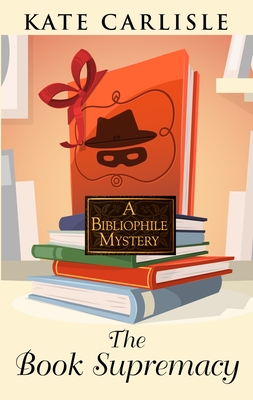 Description
---
In the latest in this New York Times bestselling series, San Francisco book-restoration expert Brooklyn Wainwright investigates a mysterious spy novel linked to a string of murders... Newlyweds Brooklyn and Derek are enjoying the final days of their honeymoon in Paris. As they're browsing the book stalls along the Seine, Brooklyn finds the perfect gift for Derek, a first edition James Bond novel, The Spy Who Loved Me. When they bump into Ned, an old friend from Derek's spy days, Brooklyn shows him her latest treasure. Once they're back home in San Francisco, they visit a spy shop Ned mentioned. The owner begs them to let him display the book Brooklyn found in Paris as part of the shop's first anniversary celebration. Before they agree, Derek makes sure the security is up to snuff--turns out, the unassuming book is worth a great deal more than sentimental value. Soon after, Derek is dismayed when he receives a mysterious letter from Paris announcing Ned's death. Then late one night, someone is killed inside the spy shop. Are the murders connected to Brooklyn's rare, pricey book? Is there something even more sinister afoot? Brooklyn and the spy who loves her will have to delve into the darkest parts of Derek's past to unmask an enemy who's been waiting for the chance to destroy everything they hold dear.
About the Author
---
Kate Carlisle is the New York Times bestselling author of the Bibliophile Mysteries, including Buried in Books and Once Upon a Spine, as well as the Fixer-Upper Mysteries, including A Wrench in the Works and Eaves of Destruction.