Absolutely Nat: A Graphic Novel (Nat Enough #3) (Paperback)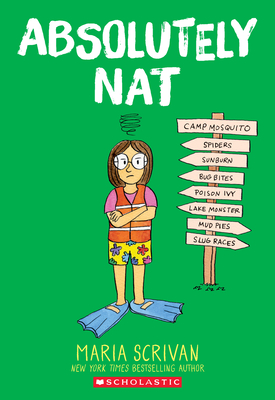 Other Books in Series
This is book number 3 in the Nat Enough series.
Description
---
Companion to the New York Times bestseller
Nat Enough
!
You can stay stuck or go forward, but you can't go back.
Natalie has just arrived at summer camp and soon realizes it isn't anything like the brochure. Instead of spending the summer with her best friends, Zoe and Flo, Natalie is stuck with her ex-BFF, Lily, and someone even more annoying than the endless mosquitoes: Millie Flatbottom. Even worse, she's constantly pushed out of her comfort zone and forced to come face-to-face with some of her greatest fears. Although summer camp isn't at all what Natalie expected, could it be exactly what she needs?
About the Author
---
MARIA SCRIVAN is an award-winning cartoonist, illustrator, and author based in Stamford, Connecticut. Her laugh-out-loud syndicated comic, Half Full, appears daily in newspapers nationwide and on gocomics.com. Maria licenses her work for greeting cards and her cartoons have appeared in MAD Magazine, Parade, and many other publications. Nat Enough, her debut graphic novel, was an instant New York Times bestseller, and the follow-ups, Forget Me Nat,Absolutely Nat and Nat For Nothing also released to great acclaim. Learn more about Maria at mariascrivan.com.
Praise For…
---
An American Library Association Best Graphic Novel for Children
Praise for Nat Enough:
Named one of "the year's best [graphic novel] books" by The Washington Post
"Maria writes funny, Maria draws funny, and Maria does it with a ton of heart." -- Jim Davis, creator of Garfield
"What elevates Maria Scrivan's graphic novel is the refreshing honesty with which it approaches its subject matter. The tone is instructive but not preachy, as Natalie develops her talents as a cartoonist and discovers her individuality, which brings her not only the acceptance of others but, more importantly, self-acceptance." -- Financial Times
"With the humor and illustrative style of a daily newspaper comic, debuting creator Scrivan's story of middle school minefields is gentle and timeless." -- Publishers Weekly
"Scrivan's exuberant, comic strip-esque art and simple dialogue will entice a range of readers, who will relate to Nat's insecurities." -- School Library Journal
"[A] straightforward, heartfelt story." -- Kirkus Reviews
"This story of growing up is a perfect read for students new to middle school and those questioning where their talents lie." -- Booklist
Praise for Forget Me Nat:
"Scrivan's cartoony artwork is bubbly and colorful, making for another fun and thoughtful middle-grade graphic novel." -- Booklist
"One of the highlights of the Nat series has been the way Scrivan brings her well-honed skills as a syndicated daily newspaper cartoonist to the drawing table... An absolute joy to behold." -- The Beat
Praise for Nat Enough:
Named one of "the year's best [graphic novel] books" by The Washington Post
"Maria writes funny, Maria draws funny, and Maria does it with a ton of heart." -- Jim Davis, creator of Garfield
"What elevates Maria Scrivan's graphic novel is the refreshing honesty with which it approaches its subject matter. The tone is instructive but not preachy, as Natalie develops her talents as a cartoonist and discovers her individuality, which brings her not only the acceptance of others but, more importantly, self-acceptance." -- Financial Times
"With the humor and illustrative style of a daily newspaper comic, debuting creator Scrivan's story of middle school minefields is gentle and timeless." -- Publishers Weekly
"Scrivan's exuberant, comic strip-esque art and simple dialogue will entice a range of readers, who will relate to Nat's insecurities." -- School Library Journal
"[A] straightforward, heartfelt story." -- Kirkus Reviews
"This story of growing up is a perfect read for students new to middle school and those questioning where their talents lie." -- Booklist
Praise for Forget Me Nat:
"Scrivan's cartoony artwork is bubbly and colorful, making for another fun and thoughtful middle-grade graphic novel." -- Booklist
"One of the highlights of the Nat series has been the way Scrivan brings her well-honed skills as a syndicated daily newspaper cartoonist to the drawing table... An absolute joy to behold." -- The Beat