Who Would Win?: Ultimate Showdown (Mixed media product)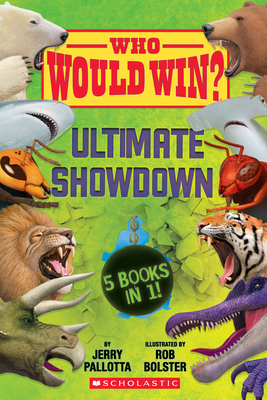 Description
---
Who Would Win? is back with another exciting bind-up featuring five more books in this action-packed animal series!What if one dangerous animal had a fight with another? Who do you think would win? In this five-book bind-up of the popular Who Would Win? series, kids will learn about each animal's anatomy, behavior, and more. Then compare and contrast the battling pairs before finally discovering the winner! This nonfiction collection is full of facts, photos, and realistic illustrations, and it includes a range of mammals, sea creatures, insects, and dinosaurs to satisfy all kinds of animal fans, including Lion vs. Tiger, Hammerhead vs. Bull Shark, Polar Bear vs. Grizzly Bear, Hornet vs. Wasp, and Triceratops vs. Spinosaurus.So who do YOU think would win?
About the Author
---
Jerry Pallotta is an award-winning author of children's books, including What I Saw in the Teachers' Lounge, Dinosaur Christmas, Who Will Guide My Sleigh Tonight?, Apple Fractions,and The Hershey's Milk Chocolate Multiplication Book. His combination of interesting facts, detailed research, humor, and realistic illustrations has mesmerized countless children across the United States. You can visit him at jerrypallotta.com.
ROB BOLSTER is both a fine artist and a professional illustrator. His work has appeared in newspaper and magazine advertisements, and he has illustrated many books for young readers, including the bestselling Who Would Win? series. Rob lives and works near Boston, Massachusetts.