Kristy's Big Day: A Graphic Novel (The Baby-Sitters Club #6) (The Baby-Sitters Club Graphix #6) (Paperback)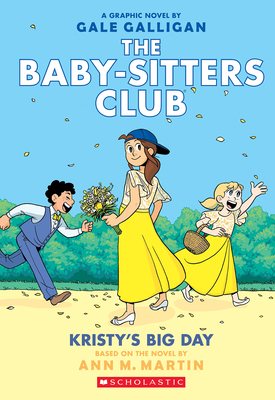 Other Books in Series
This is book number 6 in the The Baby-Sitters Club Graphix series.
Description
---
A brand-new full-color graphic novel adapted by USA Today bestselling author Gale Galligan!Kristy's mom is getting married, and Kristy is going to be a bridesmaid! The only problem? Fourteen kids are coming to town for the wedding. Kristy, Claudia, Mary Anne, Stacey, Dawn, and Mallory think they can handle it, but that's before they spend a week changing diapers, stopping arguments, solving mix-ups, and planning activities. It's the biggest job the BSC has ever had, but they'll work together to make sure Kristy's big day is a success!
About the Author
---
Gale Galligan is the creator of the New York Times bestselling Baby-sitters Club graphic novel adaptations of Dawn and the Impossible Three, Kristy's Big Day, Boy-Crazy Stacey, and Logan Likes Mary Anne! by Ann M. Martin. They are also the creator of Freestyle, an original graphic novel that they both wrote and illustrated. Gale was featured in The Claudia Kishi Club, a documentary now streaming on Netflix. When they aren't making comics, Gale enjoys knitting, reading, and spending time with their family and adorable pet rabbits. They live in Pearl River, New York. Visit them online at galesaur.com.
Ann M. Martin is the creator of The Baby-sitters Club, which has more than 190 million books in print, making it one of the most popular series in the history of publishing. Her novels include A Corner of the Universe (a Newbery Honor Book), Belle Teal, Here Today, A Dog's Life, On Christmas Eve, and the Main Street and Family Tree series, as well as the much-loved collaborations P.S. Longer Letter Later and Snail Mail No More, with Paula Danziger. Ann lives in upstate New York.
Praise For…
---
Praise for Gale Galligan:A USA Today bestselling author"I've been a fan of Gale Galligan's work -- and Gale herself -- for years. She's a brilliant cartoonist, and BSC Graphix fans are in for a treat! Gale brings an amazing sense of whimsy, warmth, and humanity to everything she touches, and I couldn't be more thrilled to have her take the baton Ann M. Martin so graciously handed to me a decade ago. Get ready for more dibbly-fresh Baby-sitters Club graphic novels, and get ready to say hello to Gale!" -- Raina Telgemeier, #1 New York Times bestselling authorPraise for Dawn and the Impossible Three:"Relying on a bright palette and close-ups of the expressive, large-eyed characters, Galligan easily shifts between giggles with friends and more emotional scenes, always retaining the upbeat, earnest tone of the original... While this title is bound to attract fans of the series, newcomers will eagerly dive right in." -- School Library Journal

Praise for Gale Galligan:A USA Today bestselling author"I've been a fan of Gale Galligan's work -- and Gale herself -- for years. She's a brilliant cartoonist, and BSC Graphix fans are in for a treat! Gale brings an amazing sense of whimsy, warmth, and humanity to everything she touches, and I couldn't be more thrilled to have her take the baton Ann M. Martin so graciously handed to me a decade ago. Get ready for more dibbly-fresh Baby-sitters Club graphic novels, and get ready to say hello to Gale!" -- Raina Telgemeier, #1 New York Times bestselling authorPraise for Dawn and the Impossible Three:"Relying on a bright palette and close-ups of the expressive, large-eyed characters, Galligan easily shifts between giggles with friends and more emotional scenes, always retaining the upbeat, earnest tone of the original... While this title is bound to attract fans of the series, newcomers will eagerly dive right in." -- School Library Journal