The Accidental President: Harry S. Truman and the Four Months That Changed the World (Paperback)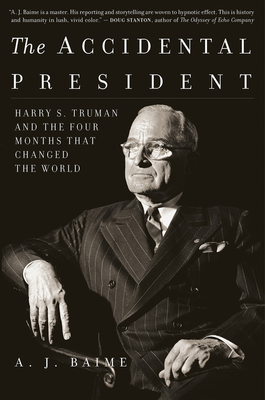 Description
---
A hypnotically fast-paced, masterful reporting of Harry Truman's first 120 days as president, when he took on Germany, Japan, Stalin, and a secret weapon of unimaginable power—marking the most dramatic rise to greatness in American history.
Chosen as FDR's fourth-term vice president for his well-praised work ethic, good judgment, and lack of enemies, Harry S. Truman was the prototypical ordinary man. That is, until he was shockingly thrust in over his head after FDR's sudden death.
The first four months of Truman's administration saw the founding of the United Nations, the fall of Berlin, victory at Okinawa, firebombings in Tokyo, the first atomic explosion, the Nazi surrender, the liberation of concentration camps, the mass starvation in Europe, the Potsdam Conference, the controversial decision to bomb Hiroshima and Nagasaki, the surrender of imperial Japan, and finally, the end of World War II and the rise of the Cold War. No other president had ever faced so much in such a short period of time.
The Accidental President escorts readers into the situation room with Truman during a tumultuous, history-making 120 days, when the stakes were high and the challenges even higher.
"[A] well-judged and hugely readable book . . . few are as entertaining." —Dominic Sandbrook, Sunday Times
About the Author
---
A. J. BAIME is the New York Times bestselling author of The Arsenal ofDemocracy: FDR, Detroit, and an EpicQuest to Arm an America at War, GoLike Hell: Ford, Ferrari, and Their Battlefor Speed and Glory at Le Mans, TheAccidental President: Harry S. Trumanand the Four Months That Changed the World, and Dewey Defeats Truman: The1948 Election and the Battle for America's Soul. Baime is a longtime regular contributor to the Wall Street Journal and his articles have also appeared in TheNew York Times, Popular Science, and Men's Journal. He holds an MA in literature from NYU and currently lives in northern California. 
Praise For…
---
"A. J. Baime is a master. His reporting and storytelling are woven to hypnotic effect. Opening the first page of The Accidental President is like pulling up a chair to Truman's White House desk where we sit engrossed as world events unfold in the most intimate manner, titanic in scale. Baime brings us as close as we are likely to get to this completely surprising, quirky, wily, and transformational president. This is history and humanity in lush, vivid color."—Doug Stanton, author of The Odyssey of Echo Company and Horse Soldiers

"A. J. Baime is a master storyteller, and The Accidental President contains everything a reader could ever want from a work of history: characters that jump off the page, tension that makes your pulse pound, and smooth, smart writing that makes you think. Amazing!"—Jonathan Eig, author of Ali: A Life and Luckiest Man

"Intimate and absorbing, A. J. Baime's biography uses new sources to paint Harry Truman as a complex and thoroughly American figure. A sharply drawn portrait of an era as well as a man."—Stephan Talty, author of The Black Hand and Agent Garbo

"No president in history—particularly one who came in without having been briefed by his predecessor—has faced such monumental decisions. A. J. Baime has put a spotlight on those four months, recounting them faithfully and with heart, so that you come away with not only a sense of history, but a sense of the man, Harry Truman, as well. As Grandpa himself said a few years later, 'It's hell to be president of the greatest most powerful nation on earth.'"—Clifton Truman Daniel, Truman's grandson and author of Growing Up with My Grandfather: Memories of Harry Truman

"An entertaining new history of Truman's first months in office . . . filled with events that are strikingly proportionate to what the Trump administration has weathered since January."—John Batchelor, Daily Beast

"A fast-paced, well-detailed chronology of Truman's transformation from an official with little administrative responsibility into a politically astute and ultimately beloved leader . . . A warmly human portrait of an unlikely president." —Kirkus Reviews