The Women: A Novel (Hardcover)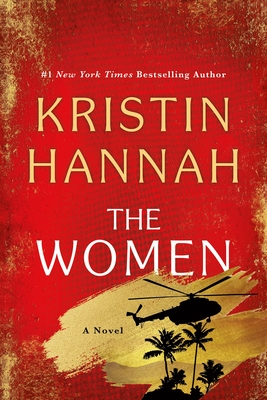 $30.00

Coming Soon - Available for Pre-Order Now
Description
---
From the celebrated author of The Nightingale and The Four Winds comes The Women—at once an intimate portrait of coming of age in a dangerous time and an epic tale of a nation divided.

Women can be heroes. When twenty-year-old nursing student Frances "Frankie" McGrath hears these words, it is a revelation. Raised in the sun-drenched, idyllic world of Southern California and sheltered by her conservative parents, she has always prided herself on doing the right thing. But in 1965, the world is changing, and she suddenly dares to imagine a different future for herself. When her brother ships out to serve in Vietnam, she joins the Army Nurse Corps and follows his path.

As green and inexperienced as the men sent to Vietnam to fight, Frankie is over-whelmed by the chaos and destruction of war. Each day is a gamble of life and death, hope and betrayal; friendships run deep and can be shattered in an instant. In war, she meets—and becomes one of—the lucky, the brave, the broken, and the lost.

But war is just the beginning for Frankie and her veteran friends. The real battle lies in coming home to a changed and divided America, to angry protesters, and to a country that wants to forget Vietnam.

The Women is the story of one woman gone to war, but it shines a light on all women who put themselves in harm's way and whose sacrifice and commitment to their country has too often been forgotten. A novel about deep friendships and bold patriotism, The Women is a richly drawn story with a memorable heroine whose idealism and courage under fire will come to define an era.
About the Author
---
KRISTIN HANNAH is the #1 New York Times bestselling author of more than twenty novels, including The Nightingale, The Great Alone, and The Four Winds. A former lawyer turned writer, she lives with her husband in the Pacific Northwest.
Praise For…
---
"The Women is historical fiction at its very best. So moving, so wrenching, and yet, in the end, uplifting. Brava! I loved The Nightingale and The Four Winds, but The Women is my favorite." —Nicholas D. Kristof, Pulitzer Prize–winning coauthor of Half the Sky

"One of the greatest storytellers of our time, Kristin Hannah, tackles one of the most cruel and despicable wars of the last century, the Vietnam War. The Women reveals the powerful contributions and horrific sacrifices of the American military nurses who served in a war whose agencies refused to acknowledge that they were
even there. Perhaps no words can bring closure to a nation still ashamed of booing our returning heroes, but the heroine, Frances McGrath, stirs a deep, overdue compassion and tears for every single soldier—and especially the forgotten women who sacrificed so much. Never has a novel of war metamorphosed so profoundly into a story of the human heart." —Delia Owens, author of Where the Crawdads Sing

"Stuns with sacrifice; uplifts with heroism . . . an important, long overdue tribute to the brave women nurses who served in Vietnam." —Bonnie Garmus, author of Lessons in Chemistry

"Hannah's emotionally charged page-turner (after The Four Winds) centers on a young nurse whose life is changed by the Vietnam War. Before Frankie McGrath begins basic training for the Army in 1966, her older brother Finley is killed in action. Frankie excels as a surgical nurse in Vietnam and becomes close with fellow nurses Ethel and Barb. After Ethel's tour ends, Frankie and Barb gets assigned to the base at Pleiku, near the Cambodian border, where some of the heaviest fighting occurs. There, she reunites with Navy officer Rye Walsh, Finley's best friend, and they become lovers. When Frankie returns to the U.S., she's met with indifference for her service from her parents, who are still grieving her brother's death, and disdain from people who oppose the war. She leans on alcohol and drugs while struggling to acclimate to civilian life. Though the situations and dialogue can feel contrived (Rye, after announcing he's re-upping, says to Frankie at the close of a chapter, "I'm not leaving my girl"), Hannah's depictions of Frankie tending to wounded soldiers are urgent and eye-opening, and a reunion of the three nurses for Frankie's benefit is poignantly told. Fans of women's historicals will enjoy this magnetic wartime story." —Publishers Weekly

"Many would say that the nurses who helped fight the Vietnam War were forgotten. Believe me, for those of us who were there, these women were never forgotten--and never will be. Kristin Hannah honors them with this novel." --Karl Marlantes, author of Matterhorn