The Vapors: A Southern Family, the New York Mob, and the Rise and Fall of Hot Springs, America's Forgotten Capital of Vice (Hardcover)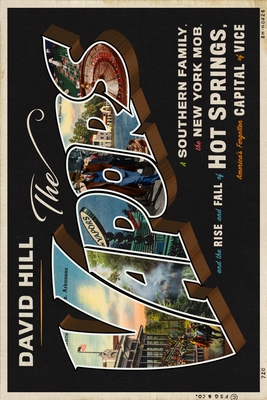 $28.00
This title is currently unavailable for order.
Description
---
A 2020 New York Times notable book | One of the Chicago Tribune's best nonfiction books of 2020

"Complex, turbulent, as haunting as a pedal steel solo" —Jonathan Miles, The New York Times Book Review (Editors' Choice)

"One of 21 books we can't wait to read in 2020" —Thrillist | A New York Times Book Review summer reading pick | A GQ best book of 2020 | Named one of the 10 best July books by The Washington Post and The Christian Science Monitor | A Kirkus Reviews hottest summer read | A Publishers Weekly summer reads staff pick

The incredible true story of America's original—and forgotten—capital of vice

Back in the days before Vegas was big, when the Mob was at its peak and neon lights were but a glimmer on the horizon, a little Southern town styled itself as a premier destination for the American leisure class. Hot Springs, Arkansas was home to healing waters, Art Deco splendor, and America's original national park—as well as horse racing, nearly a dozen illegal casinos, countless backrooms and brothels, and some of the country's most bald-faced criminals.

Gangsters, gamblers, and gamines: all once flocked to America's forgotten capital of vice, a place where small-town hustlers and bigtime high-rollers could make their fortunes, and hide from the law. The Vapors is the extraordinary story of three individuals—spanning the golden decades of Hot Springs, from the 1930s through the 1960s—and the lavish casino whose spectacular rise and fall would bring them together before blowing them apart.

Hazel Hill was still a young girl when legendary mobster Owney Madden rolled into town in his convertible, fresh off a crime spree in New York. He quickly established himself as the gentleman Godfather of Hot Springs, cutting barroom deals and buying stakes in the clubs at which Hazel made her living—and drank away her sorrows. Owney's protégé was Dane Harris, the son of a Cherokee bootlegger who rose through the town's ranks to become Boss Gambler. It was his idea to build The Vapors, a pleasure palace more spectacular than any the town had ever seen, and an establishment to rival anything on the Vegas Strip or Broadway in sophistication and supercharged glamour.

In this riveting work of forgotten history, native Arkansan David Hill plots the trajectory of everything from organized crime to America's fraught racial past, examining how a town synonymous with white gangsters supported a burgeoning black middle class. He reveals how the louche underbelly of the South was also home to veterans hospitals and baseball's spring training grounds, giving rise to everyone from Babe Ruth to President Bill Clinton. Infused with the sights and sounds of America's entertainment heyday—jazz orchestras and auctioneers, slot machines and suited comedians—The Vapors is an arresting glimpse into a bygone era of American vice.
About the Author
---
David Hill is a writer from Hot Springs, Arkansas. His work has appeared regularly in Grantland and The Ringer, and has been featured in The New Yorker, The New York Times, GQ, and New York magazine, as well as on This American Life. He lives in Nyack, New York, with his wife and three children, where he serves as the vice president of the National Writers Union. The Vapors is his first book.
Praise For…
---
". . Hazel's story, as The Vapors progresses, provides the emotional ballast, the counterweight to all the good-timey glitz, the darkness behind the neon signs. It gives the book its heft, and its warmth . . . Complex, turbulent, as haunting as a pedal steel solo . . . [it] is the wellspring of David Hill's achievement." —Jonathan Miles, The New York Times Book Review

"[A] fascinating portrait of Hot Springs in its heyday . . . Hill tells a lively tale, reminding us that it's a lot more fun reading about vice than virtue." —Dave Shiflett, The Wall Street Journal

"[The Vapors] is an intensely researched, gripping account of Hot Springs' seedy, rollicking past and its near-miss to beat out Las Vegas in becoming America's first bonafide gambling destination . . . [Hill] paces his story expertly, making this the sort of book that one grabs at bedtime with the intention of reading just a chapter or two and then finds oneself, red-eyed and wide-awake hours later, fighting to put it down." —Sean Clancy, Arkansas Democrat-Gazette

"Hot Springs, Arkansas, was once a casino hub that rivalled Las Vegas, despite a state law criminalizing gambling . . . Bribes, kickbacks, campaign contributions, ballot stuffing, and intimidation steered the profit to those in power, but the casinos also enjoyed genuine popular support, something that leads Hill to a consideration of what makes an enterprise legitimate." —The New Yorker

"[David Hill's] fantastic debut blends true crime and Southern history to chronicle the transformation of Hot Springs, Arkansas, from a spa town into a hotbed of horse racing, prostitution, and illegal gambling . . . Hill tracks this history through the lives of three central figures: Owney Madden, Dane Harris, and Hazel Hill (the author's grandmother) . . . Expertly interweaving family memoir, Arkansas politics, and Mafia lore, Hill packs the story full of colorful characters and hair-raising events. This novelistic history hits the jackpot." —Publishers Weekly (starred review)

"The Vapors is a deeply researched work . . . full of organized crime, cons, bootleggers, and all kinds of other seedy characters you hope for in a colorful history book." —Thrillist

"A juicy tale . . . [David Hill] offers up a huge cast of colorful, mostly sleazy characters, but he focuses on three key players . . . Weaving their stories in and out . . . Hill unfolds an engrossing history of corruption at the highest levels . . . Captivating." —Kirkus Reviews

"Mobsters and molls, con artists and comedians, healing waters and wily hustlers converge in a vice-happy town in the middle of nowhere—nope, not Las Vegas. This is Hot Springs in the middle of the twentieth century, come alive in a deeply reported, dark but unstoppably fascinating history of David Hill's rowdy clan's heyday. It might be a sin, but just read it." —James McManus, author of Positively Fifth Street

"As I read The Vapors, I had to remind myself that this book is not a novel but a tapestry of meticulous research, spun into an unforgettable story whose characters come alive on the page. I rooted for the good bad guys, and shook my fist at the bad bad guys. David Hill's story is an obvious pick for anyone with an interest in the gambling world, but it's also a delightful trip through a time that too many of us have either forgotten or never learned about. What a treat to read--I was totally hooked." —Christina Binkley, author of Winner Takes All

"There are corners of this world defined by crime and sin, full of people and places I assumed I'd never see up close. The Vapors is so vivid and rich that I felt like a fly on the wall in rooms I do not belong in. It made me want to gamble, and do something illegal, and also fall in love." —Chris Gethard, comedian and author of Lose Well

"When it comes to mobbed-up gambling capitals, Las Vegas and Atlantic City seem to dominate the conversation. But as David Hill shows in his terrific book, Hot Springs, Arkansas, deserves a place at this sordid table. Hill uses deep research and family history to deliver a rapid-fire tale bursting with intrigue and pathos, not to mention a heaping helping of good-ole-boy vice. The Vapors is harrowing, thrilling, and steamier than a Hot Springs thermal bath." —Doug J. Swanson, author of Blood Aces: The Wild Ride of Benny Binion, the Texas Gangster Who Created Vegas Poker

"The Vapors mixes social, political, and personal history to tell the story of one the country's last oases of illegal gambling, Hot Springs, Arkansas. Spanning nearly forty years, this book shows how New York, Chicago, Las Vegas, and Havana intersected—for a moment—in a free-wheeling Bible Belt resort. A fascinating tale." —David Schwartz, author of Grandissimo and Roll the Bones