Our Towns: A 100,000-Mile Journey into the Heart of America (Hardcover)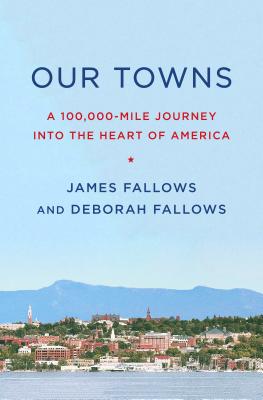 $28.95
This title is currently unavailable for order.
Description
---
***NATIONAL BEST SELLER***

A vivid, surprising portrait of the civic and economic reinvention taking place in America, town by town and generally out of view of the national media. A realistically positive and provocative view of the country between its coasts.

For the last five years, James and Deborah Fallows have been traveling across America in a single-engine prop airplane. Visiting dozens of towns, they have met hundreds of civic leaders, workers, immigrants, educators, environmentalists, artists, public servants, librarians, business people, city planners, students, and entrepreneurs to take the pulse and understand the prospects of places that usually draw notice only after a disaster or during a political campaign.

The America they saw is acutely conscious of its problems—from economic dislocation to the opioid scourge—but itis also crafting solutions, with a practical-minded determination at dramatic odds with the bitter paralysis of national politics. At times of dysfunction on a national level, reform possibilities have often arisen from the local level. The Fallowses describe America in the middle of one of these creative waves. Their view of the country is as complex and contradictory as America itself, but it also reflects the energy, the generosity and compassion, the dreams, and the determination of many who are in the midst of making things better. Our Towns is the story of their journey—and an account of a country busy remaking itself.
About the Author
---
JAMES FALLOWS has been a national correspondent for The Atlantic for more than thirty-five years, reporting from China, Japan, Southeast Asia, Europe, and across the United States. He is the author of eleven previous books. His work has also appeared in many other magazines and as public-radio commentaries since the 1980s. He has won a National Book Award and a National Magazine Award. For two years he was President Jimmy Carter's chief speechwriter.

DEBORAH FALLOWS is a linguist and writer who holds a PhD in theoretical linguistics and is the author of two previous books. She has written for The Atlantic, National Geographic, Slate, The New York Times, and The Washington Monthly, and has worked at the Pew Research Center, Oxygen Media, and Georgetown University. She and her husband have two sons and four grandchildren.
Praise For…
---
"James and Deborah Fallows have always moved to where history is being made. . . . They have an excellent sense of where world-shaping events are taking place at any moment—and a fervent commitment to be there to see it happen. . . . In these cities, the Fallows argue, citizen participants are coping with declining industries, creating new civic cultures, assimilating waves of immigration, and collaborating across party-lines to revive everything from arts programs to tech seedbeds."—David Brooks, The New York Times

"A tonic of a book about the can-do America unready to succumb to rot."—Roger Cohen, The New York Times

"Reminiscent of Charles Kuralt's On The Road with Charles Kuralt, this unique look at the heart of America will bring hope and insight to readers. Highly recommended."—David Miller, Library Journal

"I've been waiting for this book for years....Buy this book....This country is more united than divided...and this book will prove it."—Joe Scarborough, co-host of Morning Joe on MSNBC 

"Knowing the Fallows and their work, I assumed this new co-authored book of theirs would be typically savvy, sensitive, articulate and prescient. What I didn't expect was how a record of experiences of current middle American communities, through their lenses, would be such a page turner! I've guessed for many years that real change in this world would be effected by and within small communities--places where people feel connected and capable of impact on some larger scale. Our Towns is a monumental validation of that hypothesis—with real stories and real people, who are really getting things done. James & Deborah—thanks for your journey, your open and honest observations, and helping to shine light for us at the end of many tunnels." —David Allen, author of Getting Things Done; the Art of Stress-Free Productivity

"Our Towns will become a classic, joining the ranks of American odysseys from De Tocqueville to Dos Passos. The landscape unfurls beneath us; the language of different regions echoes in our ears. Most important, this book is a tonic for what ails us as a nation, a captivating story of energy and renewal across the land." —Anne-Marie Slaughter, President & CEO, New America

"In the tradition of John Steinbeck and Studs Terkel, the Fallows have crisscrossed the country in search of the extraordinary strength and character of ordinary people and places. What they've found—in towns we know and others off the beaten path—should give us all great hope for the future." —California Governor Edmund G. Brown Jr.

"An illuminating trip through 'parts of the country generally missed by the media spotlight'….Writing with lively curiosity and open minds, the couple have created textured portraits of 29 American cities, from Sioux Falls, South Dakota, to Allentown, Pennsylvania, and Eastport, Maine, to Redlands, California…. A well-reported, optimistic portrait of America's future." —Kirkus Reviews
 
"An eye-opening, keenly optimistic reminder of the strength of America's vital center." —Publishers Weekly