No one is me, and that is my superpower! kids coloring book: An Inspirational Coloring Book For Girls and Boys With Positive Affirmations/Ages 4-8 And (Paperback)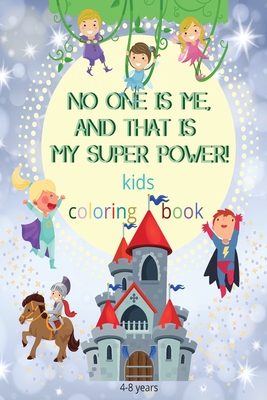 $8.49
Email or call for price
Description
---
♥♥Don't miss out on the chance to get this one of a kind inspirational-concept coloring book for boys and girls ♥♥
The main purpose of our book is to build the confidence of children by focusing on positive day by day affirmations in a realistic yet optimistic way, all while having fun by coloring-in hundreds of themed illustrations.
★Each page is specially designed with text-related elements, carefully chosen to emphasize the main idea and add visual to words, stimulating the imagination and creativity as well as opening the mind to concepts and seeing beyond words.
★Each of the affirmations is original and written by the author, most of the affirmations are written in rhymes, making them more kid-friendly, fun and prone to remember.
★We believe our book to be suitable for kids of all ages, but also for teenagers and for the child in each of us.
★All through our pages you will surely find that the lines and designs are as appealing and important to young people and adults too, but must importantly groundbreaking for children with yet developing mindsets.
This book features:
- 22 actual pages for coloring-in
- blank pages on verso, to avoid ink-bleed and allow coloring freely
- concepts like: Consciousness, Ability, Strength, Creativity, Intelligence, Beauty, Love, Care, Perseverance, Being humble, Uniqueness, and more
-hundreds of inspiring, eye-catching cute and fun doodles like: Fairies, Dragons, Princesses, Unicorns, Angels, Hearts, Trees, Flowers, Bugs, Animals, Stars, Shapes, Castles, Science scenes, Musical instruments, Art supplies, Activities and more
-6" x 9" size for little hands
If you're looking for the perfect gift, order your copy now and surely more copies later : )
♥♥Give your child, or other children dear to you, the chance to explore life through concepts made for little hands and curious sponge-like minds.♥♥