Buried Lives: The Enslaved People of George Washington's Mount Vernon (Hardcover)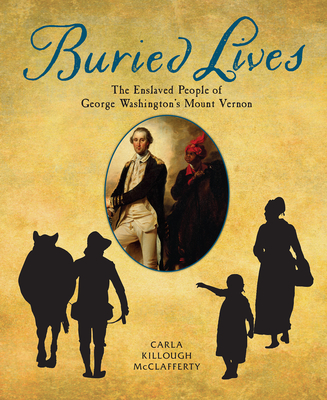 Description
---
An illuminating look at the complex relationships between George Washington and the enslaved people of Mount Vernon, and the history still being uncovered there.

When he was eleven years old, George Washington inherited ten human beings. His own life has been well chronicled, but the lives of the people he owned--the people who supported his plantation and were buried in unmarked graves there--have not. Using fascinating primary source material and photographs of historical artifacts, Carla McClafferty sheds light on the lives of several people George Washington owned; the property laws of the day that complicated his decision to free them; and the Cemetery Survey, an archeological dig (set to conclude in 2018) that is shaping our understanding of Mount Vernon's Slave Cemetery. Poignant and thought-provoking, Buried Lives blends the past with the present in a forward-looking account of a haunting piece of American history.

Includes a foreword by Zsun-nee Matema, a descendant one of the enslaved people at Mount Vernon who is highlighted in this book, backmatter outlining the author's sources, and an index.

A Junior Library Guild selection!
About the Author
---
Carla Killough McClafferty is the author of many nonfiction books for young readers, including The Many Faces of George Washington: Remaking a Presidential Icon, which was a School Library Journal Best Book of 2011, a Junior Library Guild selection, and an ALA Notable Book.
Praise For…
---
"a riveting work of illustrated nonfiction"—The Wall Street Journal


* "Relying on extensive research, McClafferty provides an alternative history to the existing, too-often idealized founding fathers' mythology. Beyond the biographies, McClafferty continues with "And Then What Happened?," culling additional information about the descendants of the six slaves. She devotes multiple chapters to the recent archeological reclamation and restoration of the unmarked, untended burial site of Mount Vernon's enslaved and further illuminates her words with drawings, maps, newspaper clippings, photographs and other relevant documents that enhance an already compelling narrative. McCafferty's Buried Lives is a long overdue, careful testimony for a new generation of questioning, challenging readers."—Shelf Awareness, Starred Review


"A monumental book about the lives of the slaves that lived and worked at George Washington's Mount Vernon"—Kirkus Reviews


"Many books have been written about George Washington, it's hard to believe there can be a genuinely fresh take on his life, but Buried Lives is an entirely new take on his experience at Mount Vernon—Washington's estate. . . . McClafferty's writings are lively, and she uses excellent storytelling techniques. The section on the archaeological work going on today is fascinating." —Manhattan Book Review