Store Updates
Due to the recent surge in COVID-19 cases and the spread of the Omicron variant, WordsWorth Books will now require customers to mask inside our store, regardless of vaccination status. We will continue to offer curbside service for those who prefer not to come into the store. Thank you for your consideration!
White Fragility: Why It's So Hard for White People to Talk About Racism (Paperback)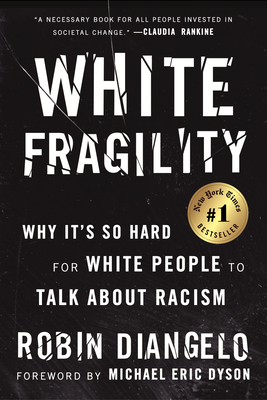 Description
---
The New York Times best-selling book exploring the counterproductive reactions white people have when their assumptions about race are challenged, and how these reactions maintain racial inequality.

In this "vital, necessary, and beautiful book" (Michael Eric Dyson), antiracist educator Robin DiAngelo deftly illuminates the phenomenon of white fragility and "allows us to understand racism as a practice not restricted to 'bad people' (Claudia Rankine). Referring to the defensive moves that white people make when challenged racially, white fragility is characterized by emotions such as anger, fear, and guilt, and by behaviors including argumentation and silence. These behaviors, in turn, function to reinstate white racial equilibrium and prevent any meaningful cross-racial dialogue. In this in-depth exploration, DiAngelo examines how white fragility develops, how it protects racial inequality, and what we can do to engage more constructively.
About the Author
---
Robin DiAngelo is an academic, lecturer, and author and has been a consultant and trainer on issues of racial and social justice for more than twenty years. She formerly served as a tenured professor of multicultural education at Westfield State University.
Praise For…
---
"The value in White Fragility lies in its methodical, irrefutable exposure of racism in thought and action, and its call for humility and vigilance."
—The New Yorker

"[T]houghtful, instructive, and comprehensive . . . This slim book is impressive in its scope and complexity; DiAngelo provides a powerful lens for examining, and practical tools for grappling with, racism today."
—Publishers Weekly, Starred Review

"White Fragility is a book everyone should be exposed to. With any luck, most who are will be inspired to search themselves and interrupt their contributions to racism."
—Shelf Awareness, Starred Review

"A valuable guide . . . While especially helpful for those new to the critical analysis of whiteness, this work also offers a useful refresher to anyone committed to the ongoing process of self-assessment and anti-oppression work."
—Library Journal

"A penetrating new book."
—Pacific Standard

"A vital, necessary, and beautiful book, a bracing call to white folk everywhere to see their whiteness for what it is and to seize the opportunity to make things better now."
—Michael Eric Dyson

"As a woman of color, I find hope in this book because of its potential to disrupt the patterns and relationships that have emerged out of long-standing colonial principles and beliefs. White Fragility is an essential tool toward authentic dialogue and action. May it be so!"
—Shakti Butler, president of World Trust and director of Mirrors of Privilege: Making Whiteness Visible

"A rare and incisive examination of the system of white body supremacy that binds us all as Americans. . . . With authenticity and clarity, she provides the antidote to white fragility and a road map for developing white racial stamina and humility. White Fragility loosens the bonds of white supremacy and binds us back together as human beings."
—Resmaa Menakem, author of My Grandmother's Hands and Rock the Boat

"As powerful forces of white racism again swell, DiAngelo invites white progressives to have a courageous conversation about their culture of complicity. . . . White Fragility provides important antiracist understanding and essential strategies for well-intentioned white people who truly endeavor to be a part of the solution."
—Glenn E. Singleton, author of Courageous Conversations About Race

"Robin DiAngelo demonstrates an all-too-rare ability to enter the racial conversation with complexity, nuance, and deep respect. Her writing establishes her mastery in accessing the imaginal, metaphoric mind where the possibility for transformation resides. With an unwavering conviction that change is possible, her message is clear: the incentive for white engagement in racial justice work is ultimately self-liberation."
—Leticia Nieto, coauthor of Beyond Inclusion, Beyond Empowerment

"White fragility is the secret ingredient that makes racial conversations so difficult and achieving racial equity even harder. But by exposing it and showing us all—including white folks—how it operates and how it hurts us, individually and collectively, Robin DiAngelo has performed an invaluable service. An indispensable volume for understanding one of the most important (and yet rarely appreciated) barriers to achieving racial justice."
—Tim Wise, author of White Like Me: Reflections on Race from a Privileged Son

"Robin DiAngelo's White Fragility brings language to the emotional structures that make true discussions about racial attitudes difficult. With clarity and compassion, DiAngelo allows us to understand racism as a practice not restricted to 'bad people.' In doing so, she moves our national discussions forward with new 'rules of engagement.' This is a necessary book for all people invested in societal change through productive social and intimate relationships."
—Claudia Rankine

"White Fragility is a must-read for all educators because racism and racial disparities in access and opportunity continue to be an urgent issue in our schools. As educators, we need to summon up the courage and together act deliberately and honestly to develop the skills we need to engage in conversations about bias, race, and racism—especially our own."
—Val Brown, professional development facilitator and founder of #ClearTheAir