That Should Be a Word: A Language Lover's Guide to Choregasms, Povertunity, Brattling, and 250 Other Much-Needed Terms for the Modern World (Paperback)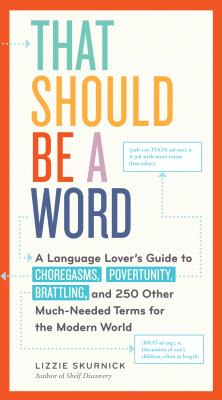 Description
---
Finally there's a word for it: Fidgital—excessively checking one's devices. Martyrmony—staying married out of duty. Author of the highly popular "That Should Be a Word" feature in the New York Times Magazine, Lizzie Skurnick delights word lovers with razor-sharp social commentary delivered via clever neologisms. That Should Be a Word is a compendium of 244 of Skurnick's wittiest wordplays—more than half of them new—arranged in ingenious diagrams detailing their interrelationships.

Complete with definitions, pronunciations, usage examples, and illustrations, That Should Be a Word features words on our obsession with food: carbiter—one who asserts that someone else cannot be hungry. On social media, like twiticule—to mock someone in 140 characters. On the modern family, like brattle—to discuss one's children at great length, which leads to words like spamily—Facebook or Twitter updates about kids—and spawntourage—a group of approaching strollers.

From highlighting the profound financial anxiety of a post-recession society (bangst) to mocking the hyper-vain celebrity circle that abstains from anything of import (celebracy), That Should Be a Word delves deep into all the most humorous, and maddening, aspects of life in the 21st century.
About the Author
---
Lizzie Skurnick is an author, a columnist, and the editor in chief of Lizzie Skurnick Books, an imprint that brings back YA classics for teen-lit fans. She has also written ten books for teens. A contributor to NPR, The New York Times Book Review, and many other publications, she is the author of Shelf Discovery, a memoir of teen reading inspired by her "Fine Lines" column on Jezebel.com. She lives in Jersey City, New Jersey.
Coverage from NPR