World War II (DK Eyewitness) (Paperback)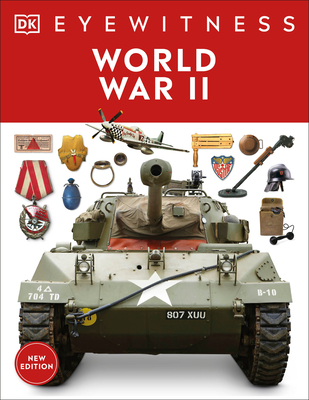 Description
---
Become an eyewitness to the terrifying global conflict that reshaped the world – from the Blitz to the atomic bomb.

In collaboration with the Imperial War Museum, go back in time and experience history with this picture-led guide to the Second World War.

This book tells the story of the second devastating conflict of the 20th century that tore the world apart – divided by international alliances and growing tensions between nations. Meet the key players who influenced the outcome of this global struggle. Explore major events such as the attack on Pearl Harbor, the Battle of Britain, the D-Day invasion, and the atomic bombs in Japan, and discover how clever code-breakers developed new technology to decipher hidden messages and gain military advantage over their enemies.

Loved and trusted for over 30 years, Eyewitness has a new look and even more content:

• A bite-sized formula of text with images that kids love!
• Fully revised and fact-checked by subject specialists
• Packed with facts, infographics, statistics, and timelines
• Updated with brand new eyewitness accounts from experts in the field

Eyewitness World War II uses a groundbreaking visual layout that makes learning fun for kids aged 9-12. This history book expertly illustrates the lessons of the Second World War and how they impact our world today. This museum in a book uses striking full-color photographs and illustrations of warfare, weaponry, vehicles, maps, and secret documents along with amazing facts, infographics, statistics, and timelines to reveal this conflict as never before.

Eyewitness content approved by -ologists!

DK's Eyewitness kids books are updated and fact-checked by subject specialists, with brand new first-hand eyewitness accounts throughout from experts in the field. 

A best-selling series known and trusted for generations, with a fresh new look and up-to-date content. 

What will you Eyewitness next?

Travel back in time to when dinosaurs roamed the earth with Eyewitness Dinosaur, or come face-to-face with a pharaoh in Eyewitness Ancient Egypt.

Do you think you've found your topic of interest? DK has even more history books for kids and adults alike find them all by searching for "DK history books".
About the Author
---
We believe in the power of discovery. That's why we create books for everyone that explore ideas and nurture curiosity about the world we live in.
 
From first words to the Big Bang, from the wonders of nature to city adventures, you will find expert knowledge, hours of fun and endless inspiration in the pages of our books. 

https://www.dk.com/
Praise For…
---
"[A] striking coffee-table book…The first-rate illustrations, maps, and time lines make for a good introduction for all general readers embarking on study of this war." — Library Journal
"[A] worthy book for the shelves of the serious student of war, or for the coffee table of any reader who seeks a comprehensive history of the world's greatest conflict." — BookPage
"This ultimate World War II guide describes each momentous episode of the conflict, while simultaneously giving an overarching view of the war intended to end all wars." — History Channel Magazine
"This is a good quick-reference source for information on not just what happened in this great conflict but also on the causes and consequences of it as well" — Booklist