This Little Piggy Stayed Home: A Pearls Before Swine Collection (Paperback)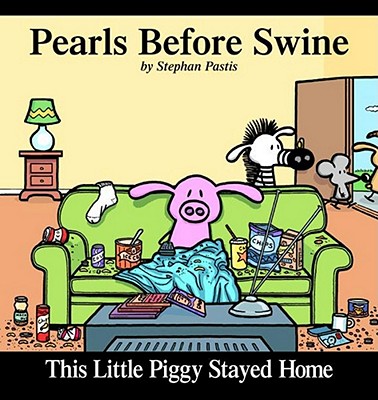 $10.99
This title is currently unavailable for order.
Other Books in Series
This is book number 2 in the Pearls Before Swine series.
Description
---
The National Cartoonists Society nominated Pearls Before Swine as one of the best comic strips of 2002.

Pearls Before Swine is an impressive comic strip success story. After only a few years of syndication, it appears in more than 150 newspapers worldwide, was nominated as Best Newspaper Comic Strip by the National Cartoonists Society in its debut year-an unprecedented achievement-and its first book collection, Pearls Before Swine, has sold through four printings.

This Little Piggy Stayed Home continues the adventures of Rat and Pig, two characters who couldn't be more different-or more surprising. Rat is your typical Every Rodent: scheming, self-centered, and more than occasionally manipulative. By contrast, Pig is sensitive, kind, and-even on his best days-just plain stupid. Together with Zebra and Goat, they confront the strange and wonderful world around them, a place that looks suspiciously like our own.

By turns thoughtful and subversive, silly and sophisticated, This Little Piggy Stayed Home is one of the funniest comic collections out there.
About the Author
---
Stephan Pastis is an attorney turned cartoonist. A graduate of the University of California, Berkeley, and the UCLA School of Law, he worked as a lawyer before trying his hand at cartooning. Pastis lives in the Bay Area with his wife and two children.