Mark Twain Presents The Adventures of Tom Sawyer: a stage play (Paperback)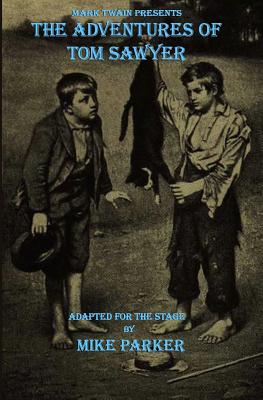 $10.99

Usually Ships in 1-5 Days
Description
---
When
The Adventures of Tom Sawyer
first appeared in 1876 it was a dismal failure, selling fewer than 24,000 copies during its first year on the market. It wasn't until Mark Twain published his masterpiece,
The Adventures of Huckleberry Finn
that Tom Sawyer truly gained an audience, perhaps due to the rapscallion's brief appearance in that novel.
Tom Sawyer, perhaps even more than Peter Pan, is the icon for eternal boyhood. Whether playing hooky from school, exploring the depths of a cavern, romancing a fair maiden, hunting for buried treasure or even attending his own funeral, Tom is an endearing composite of brash American confidence, unbridled enthusiasm and fresh-faced naivety, and he is certainly one of Mark Twain's most memorable characters.
Although Twain gained his initial reputation as a newspaper reporter, his was a storyteller at heart, winning fans with his sparkling wit and keen observations of human nature in such popular tales as The Celebrated Jumping Frog of Calavaras County and A Connecticut Yankee In King Arthur's Court. It is fitting that Twain himself should be a primary character in bringing Tom's story to life on the stage in playwright, Mike Parker's, delightful adaptation, Mark Twain Presents The Adventures of Tom Sawyer.
About the Author
---
Mike Parker is a writer, actor, director & playwright. A BA degree in Bible and Philosophy, a stint as an officer with the US Army Special Forces (Green Berets), a career as a stock broker during the great bull market of the eighties, and an entrepreneurial plunge into the uncertain world of television syndication have all combined to give him a unique outlook on the world. Blessed (or cursed) with an insatiable curiosity he is voracious reader, questioner, ponderer. His works include the stage plays Oscar Wilde's Dorian Gray and Mark Twain Presents The Adventures of Tom Sawyer, and he is currently working on a musical adaptation of "The Count of Monte Cristo." He is a contributing author to the book, Stories From A Soldier's Heart, (Multnomah) with Alice Gray, has provided commentary for the popular Bible-zine, Real (Thomas Nelson) and co-authored the non-fiction book, Shameless Self Promotion and Networking for Christian Creatives. The Scavengers (WordCrafts Press) is his first novel. He created and hosted the nationally syndicated Christian music video show, NightVision in the early 1990's, and served as producer and host for the award-winning music variety show, Saltracks on the ACTS Television Network. He serves on the board of Middle Tennessee's premier community theatre, Springhouse Theatre Company. As a professional actor he has appeared in such films as Country Strong with Gwyneth Paltrow and Tim McGraw, Lukewarm opposite Bill Cobbs and Season of Miracles with John Schneider.