Memphis: A Novel (Hardcover)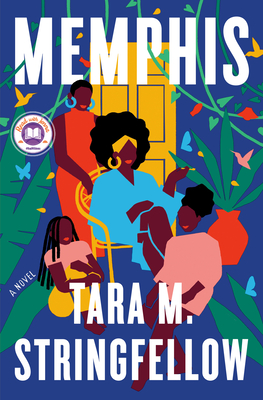 Memphis is a wonderful, intriging book about a family of black women in Memphis.  Primarily centering on two sisters, both with much tragedy but amazing resiliance, and one of their daughters.  They carry on the strong tradition of their mother.  Skipping around between different years and various characters, it weaves what undoubtedly is the story of so many black women in Memphis.  Beautifully written.
— Aubrey N.
April 2022 Indie Next List
---
"Centering Black joy above all, Stringfellow's life-affirming debut follows three generations of unforgettable women in a gifted but tested family. Readers will cry, laugh, and sing. I hope we read Stringfellow for a long, long time."
— Katie Williamson, Square Books, Oxford, MS
Description
---
NATIONAL BESTSELLER • READ WITH JENNA BOOK CLUB PICK AS FEATURED ON TODAY • A spellbinding debut novel tracing three generations of a Southern Black family and one daughter's discovery that she has the power to change her family's legacy.

"A rhapsodic hymn to Black women."—The New York Times Book Review

"I fell in love with this family, from Joan's fierce heart to her grandmother Hazel's determined resilience. Tara Stringfellow will be an author to watch for years to come."—Jacqueline Woodson, New York Times bestselling author of Red at the Bone

Summer 1995: Ten-year-old Joan, her mother, and her younger sister flee her father's explosive temper and seek refuge at her mother's ancestral home in Memphis. This is not the first time violence has altered the course of the family's trajectory. Half a century earlier, Joan's grandfather built this majestic house in the historic Black neighborhood of Douglass—only to be lynched days after becoming the first Black detective in the city. Joan tries to settle into her new life, but family secrets cast a longer shadow than any of them expected.

As she grows up, Joan finds relief in her artwork, painting portraits of the community in Memphis. One of her subjects is their enigmatic neighbor Miss Dawn, who claims to know something about curses, and whose stories about the past help Joan see how her passion, imagination, and relentless hope are, in fact, the continuation of a long matrilineal tradition. Joan begins to understand that her mother, her mother's mother, and the mothers before them persevered, made impossible choices, and put their dreams on hold so that her life would not have to be defined by loss and anger—that the sole instrument she needs for healing is her paintbrush.

Unfolding over seventy years through a chorus of unforgettable voices that move back and forth in time, Memphis paints an indelible portrait of inheritance, celebrating the full complexity of what we pass down, in a family and as a country: brutality and justice, faith and forgiveness, sacrifice and love.
About the Author
---
Poet, former attorney, Northwestern University MFA graduate, and semifinalist for the Fulbright Fellowship, Tara M. Stringfellow has written for Collective Unrest, Minerva Rising, Jet Fuel Review, Women Arts Quarterly Journal, and Apogee Journal, among other publications. After having lived in Okinawa, Ghana, Chicago, Cuba, Spain, Italy, and Washington, DC, she moved back home to Memphis, where she sits on her porch swing every evening with her hound, Huckleberry, listening to records and chatting with neighbors.
Praise For…
---
"Readers will come to see that Stringfellow is demonstrating the erratic movements of history, the false starts and reversals and, yes, the moments of progress that are reflected in our haphazard march toward realizing King's vision for America. . . . With her richly impressionistic style, Stringfellow captures the changes transforming Memphis in the latter half of the 20th century."—The Washington Post

"Written with the grace of a poet, Memphis is as hopeful as it is heartbreaking. I fell in love with this family, from Joan's fierce heart to her grandmother Hazel's determined resilience. Tara Stringfellow will be an author to watch for years to come. . . . A stellar debut."—Jacqueline Woodson, bestselling author of Red at the Bone

"Memphis is an evocative, compelling tale that mines the depths of collective Black pain to arrive at something that might be, for once, Black healing. Writing in the ancestral tradition of stories passed from one generation to the next—relived, revised, revealed—Tara M. Stringfellow assembles an endearing and unforgettable cast of characters who find strength in vulnerability, safety in art, and liberation in telling the truth. This is a shining, splendid testimony in the vein of Gloria Naylor, Delores Phillips, Ayana Mathis, and Honorée Jeffers."—Robert Jones, Jr., New York Times bestselling author of The Prophets

"In luminous, lyrical prose, Tara Stringfellow sings the song of the North women—and the North men—with wisdom, humor, and deep humanity. Memphis is an American epic, a tribute to life in all of its sorrow and joyful resilience."—Chloe Benjamin, bestselling author of The Immortalists

"This vivid debut novel examines the tragedies, joys, and deep connections of one extraordinary Memphis family. . . . A story populated with unforgettable characters. Stringfellow's prose is evocative. . . . A powerful family saga from a promising writer."—Booklist

"A rich tapestry of women's familial relationships . . . a well-written debut by an author worth watching for years to come . . . Recommended for anyone who appreciates Toni Morrison, Alice Walker, or Gloria Naylor."—Library Journal (starred review)