Driven by Conscience (Paperback)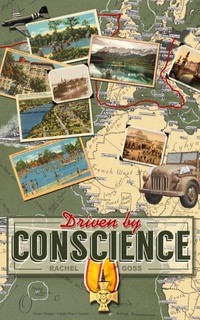 Description
---
Take a trip back in time and across the globe with this heartwarming story of adventure and high stakes decision making. The story begins in 1942 Berlin. Uwe Johannes was slated for a brilliant career as a physicist at the Kaiser Wilhelm Institute. As the illustrious Werner Heisenberg's graduate student, Uwe would have remained in the inner circle if not for his family's humanitarian work. The Third Reich intervenes and Uwe ends up fighting on the front line in Tunisia. Before he leaves the lab, though, Uwe cajoles Heisenberg into sharing classified scientific documents detailing their work towards constructing an atom bomb, which he carries out of the country hidden on a medal. It is up to Uwe to decide if and when to share his secret with the world.

Uwe's outlook expands as the war takes him to unexpected places. Captured by the Allies, Uwe is taken to the US on board a prison ship, on a fast paced march through New York City, on a train ride across America's heartland, and ultimately to a prisoner of war camp in Arkansas. Each phase of Uwe's journey brings new challenges as he navigates changing locations and cultures. Uwe extricates himself from field labor by utilizing his mechanical skills to become head of the prison camp motor pool, and by teaching math and physics to fellow soldiers. Uwe's encounter with a violent Nazi faction within the prison camp results in his near death and transfer to an off site army hospital. A rare opportunity arises and Uwe joins a clandestine Allied research program operating out of a private home in town.

Living with a local family immerses Uwe further into the culture. Although they have sent three sons to war, the family welcomes Uwe into their home. The happy time is cut short by the arrival of a Russian spy network that infiltrates the town. Uwe's data is stolen. Panicked by the loss of his data, Uwe runs away without official leave to retrieve his medal. He isn't alone, though, because the housekeeper's daughter runs away with him. She becomes Uwe's guide in unknown territory as they chase the thieves to Pine Bluff. The mixed race couple become quick friends on their journey through rural, segregated Arkansas. It wouldn't be rural Arkansas without a trip or two to church, and they each make friends and alert the authorities over delicious Wednesday night suppers as they try to unravel the mystery of who took the medal where. It is a story of the development of character and judgment in a chaotic world, a story of friendships, neighbors, a good dog and brother love.

About the Author
---
Rachel Goss is a fifth generation Arkansan. She received an AB degree from Washington University in St. Louis, studying English Literature and Biology, and she has a Master of Science in Biology from Texas A&M University. She has lived in Arkansas, Missouri, Texas and New York, where she worked in basic scientific research, studying plant science, pathology and vascular medicine. Lastly she moved to California, where she enjoys writing, gardening, swimming, and long road trips.