Freak the Mighty (Scholastic Gold) (Paperback)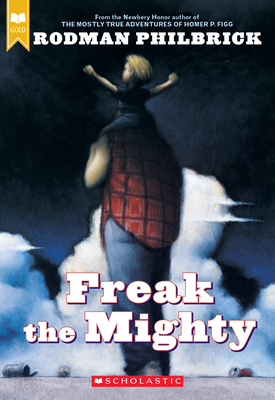 List Price: $8.99
Our Price: $7.99
(Save: $1.00 11%)
Description
---
Two boys - a slow learner stuck in the body of a teenage giant and a tiny Einstein in leg braces - forge a unique friendship when they pair up to create one formidable human force. (Made into the film, The Mighty.) * "A wonderful story of triumph over imperfection, shame, and loss." - School Library Journal, starred review "Compelling…written with energy and…humor." - The Bulletin for the Center of Children"s Books
Freak the Mighty
joins the Scholastic Gold line, which features award-winning and beloved novels. Includes exclusive bonus content!It has been over twenty years -- and more than two million copies, eight foreign editions, and a popular Miramax feature film -- since the world was introduced to this powerful story of a unique friendship between a troubled, oversized boy and the tiny, physically challenged genius who proves that courage comes in all sizes. This simple yet timeless story explores many themes, including bullying -- an important topic in today's schools.
Freak the Mighty
is sure to remain fresh, dramatic, and memorable for the next twenty years and beyond!
About the Author
---
Newbery Honor author Rodman Philbrick has written more than a dozen novels for young readers. In 1993, he published his first children's book, Freak the Mighty, which became an instant classic, and was made into a feature film. The Mostly True Adventures of Homer P. Figg was a 2010 Newbery Honor Book. Philbrick's other acclaimed novels include Max the Mighty, The Young Man and the Sea, The Last Book in the Universe, Zane and the Hurricane, and Wildfire. Philbrick divides his time between Maine and the Florida Keys. You can learn more about him on his website: rodmanphilbrick.com.
Praise For…
---
Praise for Rodman Philbrick:Freak the MightyA School Library Journal Best Book for Young AdultsA YALSA Best Book for Young AdultsA YALSA Quick Picks for Reluctant Young Adult ReadersAn IRA Young Adults' Choices BookA winner of: Arizona Young Readers' Award, California Young Reader Medal, Charlotte Award, Golden Sower Award (Nebraska), Judy Lopez Memorial Award for Children's Literature (California), Soaring Eagle Book Award (Wyoming)* "Max's description of their friendship . . . is gritty, unsentimental, sparked with Freak's wry verbal wit and Max's earthier humor, and ultimately poignant. Easily read but compelling: an intriguing and unusual story."-- Kirkus Reviews, starred reviewThe Mostly True Adventures of Homer P. FiggA Newbery Honor BookA Kentucky Bluegrass Award NomineeAn Oppenheim Toy Portfolio Platinum Award WinnerA New York Public Library's "Children's Books" 2009 -- 100 Books for Reading and SharingA CBC/NCSS Notable Social Studies Trade Books for Young People 2010* "The book wouldn't be nearly as much fun without Homer's tall tales, but there are serious moments, too, and the horror of war and injustice of slavery ring clearly above the din of playful exaggerations." -- Publishers Weekly, starred review

Praise for Rodman Philbrick:Freak the MightyA School Library Journal Best Book for Young AdultsA YALSA Best Book for Young AdultsA YALSA Quick Picks for Reluctant Young Adult ReadersAn IRA Young Adults' Choices BookA winner of: Arizona Young Readers' Award, California Young Reader Medal, Charlotte Award, Golden Sower Award (Nebraska), Judy Lopez Memorial Award for Children's Literature (California), Soaring Eagle Book Award (Wyoming)* "Max's description of their friendship . . . is gritty, unsentimental, sparked with Freak's wry verbal wit and Max's earthier humor, and ultimately poignant. Easily read but compelling: an intriguing and unusual story."-- Kirkus Reviews, starred reviewThe Mostly True Adventures of Homer P. FiggA Newbery Honor BookA Kentucky Bluegrass Award NomineeAn Oppenheim Toy Portfolio Platinum Award WinnerA New York Public Library's "Children's Books" 2009 -- 100 Books for Reading and SharingA CBC/NCSS Notable Social Studies Trade Books for Young People 2010* "The book wouldn't be nearly as much fun without Homer's tall tales, but there are serious moments, too, and the horror of war and injustice of slavery ring clearly above the din of playful exaggerations." -- Publishers Weekly, starred review