It's Your World: Get Informed, Get Inspired & Get Going! (Paperback)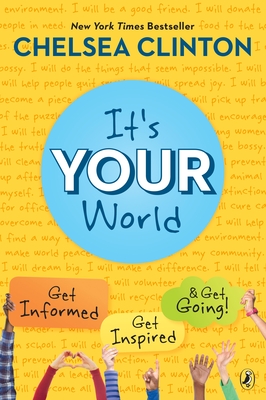 $9.99
This title is currently unavailable for order.
Description
---
From the bestelling author of She Persisted! First daughter turned activist and mother Chelsea Clinton shows kids how they can make a difference in their world. Filled with charts, photos, and lots of input from real kids, this is sure to inspire young readers.

With an eye toward empowering and inspiring kids, Chelsea Clinton explores some of the biggest challenges facing our world today. Using data, charts and stories she unpacks challenges related to Poverty, Climate Change, Gender Equality, Health, Endangered Species and talks about what's being done to make a difference in each area--particularly by kids and teenagers. With lots of suggestions and ideas for action, Chelsea Clinton shares her passion for helping others and shows readers that the world belongs to every single one of us, and every one of us counts--no matter how young.

You can make a difference. You can make a change. It's your world.

Contains new material from the author!

Praise for It's Your World:

"Clinton clearly paid attention to her parents' discussions at the dinner table, and she capably shares the lessons they imparted about the future impact of what we do in the present."--Publishers Weekly 

"[A] terrific resource for junior activists."--Booklist 

"This book is a resource for children and teens who also want to make a difference and may not know where to begin or may have an idea for ways they can make a difference."--VOYA
About the Author
---
Chelsea Clinton is the author of the #1 New York Times bestseller She Persisted: 13 American Women Who Changed the World; She Persisted Around the World: 13 Women Who Changed History; She Persisted in Sports: American Olympians Who Changed the Game; Don't Let Them Disappear: 12 Endangered Species Across the Globe; It's Your World: Get Informed, Get Inspired & Get Going!; Start Now!: You Can Make a Difference; with Hillary Clinton, Grandma's Gardens and Gutsy Women; and, with Devi Sridhar, Governing Global Health: Who Runs the World and Why? She is also the Vice Chair of the Clinton Foundation, where she works on many initiatives, including those that help empower the next generation of leaders. She lives in New York City with her husband, Marc, their children and their dog, Soren. You can follow Chelsea Clinton on Twitter @ChelseaClinton or on Facebook at facebook.com/chelseaclinton.
Praise For…
---
Praise for IT'S YOUR WORLD

"Clinton hits it out of the park as a guide to becoming a globally aware citizen and a more empowered young woman."--New York Post


"Speaks directly to teens and addresses challenges that young people face in the world today."--Huffington Post 

"Taking an upbeat, positive approach, former First Daughter Clinton stresses the importance of being proactive and involved when it comes to current events. . . .  A solid addition to global studies or current events units or projects.--School Library Journal

"Clinton clearly paid attention to her parents' discussions at the dinner table, and she capably shares the lessons they imparted about the future impact of what we do in the present."--Publishers Weekly 

"[A] terrific resource for junior activists."--Booklist

"This book is a resource for children and teens who also want to make a difference and may not know where to begin or may have an idea for ways they can make a difference."--VOYA