Shrines of Gaiety: A Novel (Hardcover)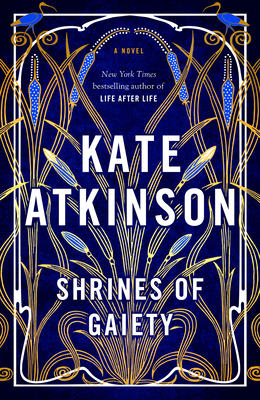 $29.00

Usually Ships in 1-5 Days
Description
---
NEW YORK TIMES BESTSELLER • The award-winning author of Life after Life transports us to a restless London in the wake of the Great War—a city bursting with money, glamour, and corruption—in this spellbinding tale of seduction and betrayal.

A BEST BOOK OF THE YEAR: WASHINGTON POST, TIME, THE GUARDIAN, BOOKLIST

"Set during Jazz Age London, in all its fizzy madness and desperation.... As dark as [Atkinson's] stories can get, within them always shines a beacon of humanity." —Gillian Flynn, bestselling author of Dark Places

1926, and in a country still recovering from the Great War, London has become the focus for a delirious new nightlife. In the clubs of Soho, peers of the realm rub shoulders with starlets, foreign dignitaries with gangsters, and girls sell dances for a shilling a time.  
 
The notorious queen of this glittering world is Nellie Coker, ruthless but also ambitious to advance her six children, including the enigmatic eldest, Niven, whose character has been forged in the crucible of the Somme. But success breeds enemies, and Nellie's empire faces threats from without and within. For beneath the dazzle of Soho's gaiety, there is a dark underbelly, a world in which it is all too easy to become lost.
 
With her unique Dickensian flair, Kate Atkinson gives us a window in a vanished world. Slyly funny, brilliantly observant, and ingeniously plotted, Shrines of Gaiety showcases the myriad talents that have made Atkinson one of the most lauded writers of our time.
About the Author
---
KATE ATKINSON won the Whitbread (now Costa) Book of the Year prize with her first novel, Behind the Scenes at the Museum. Her 2013 novel Life After Life was shortlisted for the Women's Prize for Fiction and voted Book of the Year for the independent booksellers associations on both sides of the Atlantic. It also won the Costa Novel Award, as did her subsequent novel, A God in Ruins (2015), and was adapted into a critically acclaimed television series in 2022. Her bestselling novels featuring former detective Jackson Brodie became the BBC television series Case Histories, starring Jason Isaacs. She has written twelve groundbreaking, bestselling books and lives in Edinburgh, Scotland.
Praise For…
---
A Best Book of the Year: The Guardian • BookBrowse • Slate

One of TIME Magazine's Must-Read Books of the Year • A Top Ten Washington Post Best Books of the Year • A Kirkus Best Book of the Year

"If Dickens had lived to write about The Jazz Age, he would have produced a novel much like Kate Atkinson's Shrines of Gaiety. A sprawling and sparkling tale set in London in 1926...A smartly entertaining read that captures the excitement of Roaring 20s London."
—Washington Post

"[Atkinson] takes on London in the 1920s, masterfully capturing both its shimmer and its seediness...It's a deliciously fun, absorbing read."
—Time

"Atkinson vividly conjures the post-Great War London of a century ago...Tangible warmth suffuses her storytelling...A cocktail of fizz and melancholy, generously poured."
—The New York Times Book Review

"There is the perfect balance throughout of sweetness and heartbreak. And, as always, there is the unmistakable zest of Ms. Atkinson's dry wit...Ms. Atkinson has perfected the comicwizardry that keeps us both airborne and immersed in her mosaic-like narratives."
—The Wall Street Journal

"In this fizzy, sprawling picaresque — filigreedwith outsize characters and the improbable coincidencesof a Victorian serial — the novelist imaginesa former combat nurse looking for a missinggirl in a London that's shaking off World War I."
—The New York Times Book Review, Editor's Choice

"Simply one of the best writers working today, anywhere in the world…[Shrines of Gaiety] is set during Jazz Age London, in all its fizzy madness and desperation for the new, the better, the hustle. Atkinson simply has a magician's ability to switch a readers's moods within a few paragraphs, and as dark as her stories can get, within them always shines a beacon of humanity."
—Gillian Flynn, Today

"A wondrously intricate piece of narrative clockwork...The Jazz Age London of Shrines of Gaiety is nearly as merciless as Dickens' Victorian metropolis and even more rife with crime and intrigue...Irresistibly pleasurable."
—Slate

"Kate Atkinson's latest fictional treat is packed with intrigue...Atkinson's tapestry of 1920s London glitters."
—The Boston Globe

"An homage to the mannered realism of Dickens and Forster...Comedy, tragedy, genre, realism, postmodernism: Atkinson breaks through again and again as she evolves on the page."
—Oprah Daily

"Exuberant...Kate Atkinson's new novel confirms her reputation as a masterful entertainer."
—The Economist

"Like all of Atkinson's novels, her latest defies easy categorization. It's historical fiction, but there's a sense of knowingness that feels contemporary...The adjective Dickensianfeels too clichéd to be meaningful, but Atkinson does excel at creating a big, bustling universe fully inhabited by vivid characters...Already one of the best writers working, Atkinson just gets better and better."
—Kirkus (starred review)

"[A] glittering foray into London's post-WWI Soho...Atkinson's incisive prose and byzantine narrative elegantly excavate the deceit, depravity, and destruction of Nellie's world. She also turns this rich historical into a sophisticated cat-and-mouse tale as the various actors try to move in on Nellie's turf. Atkinson is writing at the top of her game."
—Publishers Weekly (starred review)

"[A] riveting re-creation of life in 1920s London...Atkinson's palpable fondness for her characters helps her to imbue even themost minor of them with texture and depth, and she brings the same attention to detail to her portrait of the highs and lows of Jazz Age London. Another triumph from one of our finest novelists."
—Booklist (starred review)

"There's a certain joy in opening a Kate Atkinson novel—a feeling that every element matters and that each surprise will ultimately make perfect sense...Atkinson's characters and their choices, curiosities and corruptions keep the story unfolding, making the resolution worth every second."
—BookPage (starred review)

"Exquisite...Atkinson at her inimitable best."
—Vogue (UK)

"Brilliant."
—Richard Osman, The Times

"A rich cast of characters, an elegantly intricate plot—this is classic Atkinson."
—The Guardian

"Kate Atkinson is a novelist of unrivalled immediacy, authority and skill...This book is sharp, witty and fiendishly plotted. You don't so much read it as surrender to it, and you sense—and share—the relish with which she creates such an attention-grabbing cast. It's an exhilarating ride."
—Financial Times

"A heady brew of crime, romance and satire set amid the sordid glitz of London nightlife in the 1920s...This is Atkinson on her finest form...A marvel of plate-spinning narrative knowhow, a peak performance of consummate control."
—The Observer

"The novel grabs the reader from the outset. It paints a picture of the capital's glittering nightlife and its seedier underside so vivid, that it is almost possible to smell the stale cigarette smoke and taste the alcohol...The story of Nellie and her family, and the characters they associate with, builds to a satisfying ending as the strands of their lives are deftly woven together."
—The Independent

"Dickensian, yes, infused with a playful knowingness that's pure Atkinson."
—Mail on Sunday

"Vivid and atmospheric...Highly enjoyable."
—Daily Mail

"Witty and poignant, a real triumph."
—Good Housekeeping (UK)

"Seduction, betrayal, and larger-than-life characters that will have you hooked until the last page."
—Sunday Telegraph

"Atkinson has a tremendous gift for bringing the past to life but wearing her research lightly. With charismatic characters, witty dialogue and a compelling plot, she captures the reckless atmosphere of a city still coming to terms with the horrors of the First World War. It's an absorbing read and a novel to savour."
—Daily Express

"A dazzling depiction of jazz age London."
—Woman's Weekly

"It froths with all-night parties, corrupt police- men, sickly cocktails, swanky cars, gossip columnists, gambling dens and beautiful clothes…As the book hurtles towards its twisty climax, Ms. Atkinson once again proves herself to be a consummate entertainer."
—The Economist (UK)

"Atkinson captures both the glamour and the seediness of this heady period with consummate skill in a book teeming with memorable characters. Gorgeously vivid, often strange and always very funny, it should cement her reputation as one of our finest novelists."
—Jake Kerridge, Sunday Express
 
"Go out and buy this book today."
—The Tablet



A Top Ten Washington Post's Best Books of the year