Eragon: Inheritance, Book I (The Inheritance Cycle #1) (Paperback)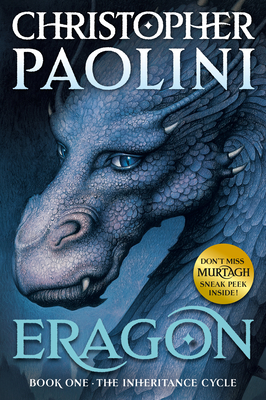 Other Books in Series
This is book number 1 in the The Inheritance Cycle series.
Description
---
Don't miss the latest book from the author of Eragon, The Fork, the Witch, and the Worm: Tales from Alagaësia!

Perfect for fans of Lord of the Rings, the New York Times bestselling Inheritance Cycle about the dragon rider Eragon has sold over 35 million copies and is an international fantasy sensation. With newly updated interlocking art across the spines of all four books!


Fifteen-year-old Eragon believes that he is merely a poor farm boy—until his destiny as a Dragon Rider is revealed. Gifted with only an ancient sword, a loyal dragon, and sage advice from an old storyteller, Eragon is soon swept into a dangerous tapestry of magic, glory, and power. Now his choices could save—or destroy—the Empire.

Praise for The Inheritance Cycle:
"An authentic work of great talent." --New York Times Book Review
"Paolini is a spellbinding fantasy writer." --The Boston Globe
"A breathtaking and unheard of success." --USA Today
"Christopher Paolini is a true rarity." --The Washington Post
"Christopher Paolini make[s] literary magic." –People
"The new 'It' book of children's lit." –U.S. News & World Report

A #1 New York Times Bestseller
A #1 Publishers Weekly Bestseller
A #1 USA Today Bestseller
A Wall Street Journal Bestseller
About the Author
---
Christopher Paolini's abiding love of fantasy and science fiction inspired him to begin writing his debut novel, Eragon, when he graduated from high school at fifteen after being homeschooled all his life. Both Eragon and Eldest, the second book in the Inheritance cycle, became instant New York Times bestsellers. Christopher is currently at work on Brisingr, the third volume in the cycle. He lives in Montana, where the dramatic landscape feeds his visions of Alagaësia.

You can find out more about Christopher and Inheritance at www.alagaesia.com.
Praise For…
---
A #1 New York Times Bestseller

2004 Book Sense Book of the Year

A USA Today Bestseller

A #1 Publishers Weekly Bestseller

A Wall Street Journal Bestseller

A Book Sense Bestseller

"Full praise to Eragon, and I want more! A winner . . . tip of the hat to young master Paolini."—Anne McCaffrey, author of The Dragonriders of Pern series

"Christopher Paolini make[s] literary magic with his precocious debut."—People

"An authentic work of great talent . . . I found myself dreaming about it at night, and reaching for it as soon as I woke." ─Liz Rosenberg, The New York Times Book Review

"Unusual, powerful . . . fresh and fluid. An impressive start to a writing career that's sure to flourish." —Booklist, Starred

"An auspicious beginning to both career and series."—Publishers Weekly

"Will appeal to legions of readers who have been captivated by the Lord of the Rings trilogy."—School Library Journal