Finding Winnie: The True Story of the World's Most Famous Bear (Caldecott Medal Winner) (Hardcover)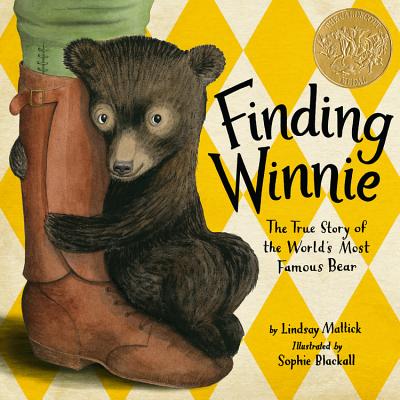 $18.99

Usually Ships in 1-5 Days
Description
---
A #1 New York Times Bestseller and Winner of the Caldecott Medal about the remarkable true story of the bear who inspired Winnie-the-Pooh.

In 1914, Harry Colebourn, a veterinarian on his way to tend horses in World War I, followed his heart and rescued a baby bear. He named her Winnie, after his hometown of Winnipeg, and he took the bear to war.

Harry Colebourn's real-life great-granddaughter tells the true story of a remarkable friendship and an even more remarkable journey--from the fields of Canada to a convoy across the ocean to an army base in England...

And finally to the London Zoo, where Winnie made another new friend: a real boy named Christopher Robin.

Before Winnie-the-Pooh, there was a real bear named Winnie. And she was a girl!
About the Author
---
Lindsay Mattick, Harry Colebourn's great-granddaughter, is the vice-president of an award-winning public relations firm. Based in Toronto, she has shared Harry and Winnie's story around the world.

Sophie Blackall is the bestselling and two-time Caldecott medal-winning artist behind Finding Winnie: The True Story of the World's Most Famous Bear, Hello, Lighthouse and Farmhouse. She is also the proprietor of Milkwood, a creative retreat for children's book makers. She lives between Brooklyn and a farm in upstate New York. 
Praise For…
---
A New York Times Notable Children's Book of the Year
Winner of the 2015 Caldecott MedalHorn Book FanfareNYPL 100 Titles for Reading and SharingPublishers Weekly Best Book of the YearBooklinks Lasting ConnectionsBookpage Best Book of the Year
* "The sum total is as captivating as it is informative, transforming a personal family story into something universally resonant."—
Horn Book, starred review
* "Little ones who love Milne's classic stories will be enchanted by this heartening account of the bear's real-life origins."—
Booklist, starred review
* "A perfect melding of beautiful art with soulful, imaginative writing, this lovely story, penned by Colebourn's great-great granddaughter, is ideal for sharing aloud or poring over individually."—
School Library Journal, starred review
* "The book strikes a lovely, understated tone of wonder and family pride...[Sophie Blackall] proves that she's equally imaginative at chronicling straight-on reality too."
—
Publishers Weekly, starred review
"Gorgeously illustrated...[a] delightful telling"—
New York Times Book Review
"[An] inspiring text...Blackall's breathtaking watercolor illustrations demand to be examined up close, and Winnie's face is as expressive as the humans'."—
School Library Connection
"This tender tribute will inspire a new generation of Winnie fans—for the books and the historic bear."—
BookPage
Praise for Farmhouse:
A 2022 KIRKUS BEST CHILDREN'S BOOK
A 2022 SLJ BEST BOOK
A HORN BOOK FANFARE
A 2022 PUBLISHERS WEEKLY BEST BOOK
A 2022 BOOKPAGE BEST BOOK
A 2022 WASHINGTON POST BEST BOOK
A 2022 NYTIMES BEST ILLUSTRATED BOOK
AN NPR BEST BOOK OF 2022
A 2022 BOOKLIST EDITORS' CHOICE
GOOD HOUSEKEEPING BEST KIDS' BOOKS OF 2022
2023 ALSC NOTABLE BOOKS FOR CHILDREN
2023 CCBC CHILDREN'S CHOICES LIST
2023 BANK ST COLLEGE BEST BOOKS
*"
A lovely, tender reimagination of people in a long-past time and place."
—
Kirkus, starred review
*"
A love letter to the joys of country living and family life as well as the importance of treasuring the past and all its stories."
—
School Library Journal, starred review
*"The tale's strong sense of place undergirds Blackall's witness to the way environments change over time and stories survive long after material objects disappear, in
a thoughtful, expertly executed work that looks simultaneously forward and back
."—
Publishers Weekly, starred review
*"
Blackall's illustrations are everything here
, incorporating wallpaper, fabrics, and other items scavenged from the house melded together with ink, watercolor, gouache, and colored pencil to create vibr
antly layered compositions with a tactile quality
."—
Horn Book, starred review
* "
Genuinely captivating
...A meditation on the creative process...Multifaceted and arresting...
Irresistible
."—
Booklist, starred review
"
a tender, layered masterpiece that itself deserves to be passed along for generations
."—
New York Times
*"A sophisticated, openhearted ode to what truly makes a house a home...Vividly realized...."—
BookPage, starred review
Praise for Hello Lighthouse:

A New York Times Bestseller and Caldecott Winner
 * "Blackall's charmingly old-fashioned art style is beautifully matched to this nostalgia-rich story, which imbues an antiquated place with warmth and wonder."L—
Booklist, starred review
* "A delightful bedtime read perfect for one on one sharing."
—
School Library Journal, starred review
* "It's a jewel of a creation and a gift to those who dream of retreat."
—
Publishers Weekly, starred review
"I will be surprised if a more exquisite picture book will be published this year...Children will be fascinated..."
—
New York Times Book Review