Let's Explore Diabetes with Owls (Large Print / Hardcover)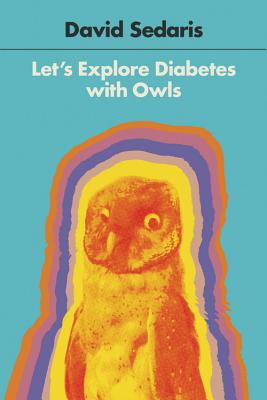 $29.00
This title is currently unavailable for order.
Description
---
A guy walks into a bar car and...

From here the story could take many turns. When this guy is David Sedaris, the possibilities are endless, but the result is always the same: he will both delight you with twists of humor and intelligence and leave you deeply moved.

Sedaris remembers his father's dinnertime attire (shirtsleeves and underpants), his first colonoscopy (remarkably pleasant), and the time he considered buying the skeleton of a murdered Pygmy.

With Let's Explore Diabetes with Owls, David Sedaris shows once again why his work has been called "hilarious, elegant, and surprisingly moving" (Washington Post).
About the Author
---
David Sedaris is the author of the books Squirrel Seeks Chipmunk, When You Are Engulfed in Flames, Dress Your Family in Corduroy and Denim, Me Talk Pretty One Day, Holidays on Ice, Naked,and Barrel Fever. He is a regular contributor to The New Yorker and Public Radio International's This American Life. He lives in England.
Praise For…
---
PRAISE FOR LET'S EXPLORE DIABETES WITH OWLS:

"Sedaris is a remarkably skilled storyteller and savvy essayist. He weaves together vivid images and sensations into a coherent whole that packs a serious emotional punch....Yes, David Sedaris is really that good. And, based on this latest collection, he's getting only better."
---Heather Havrilesky, Los Angeles Times

"Sedaris makes coming-of-age seem ever new and ever remarkable, not because his life was so very different from any of our own, but because he brings fresh eyes to common experiences.... It's only natural to laugh at all the comic abundance in Let's Explore, but there's no crime in sticking around for the humanity."
-David Carr, New York Times Book Review

"Artfully milked embarrassing personal incidents for literary laughs...There are plenty of well-cut gems, including one about an ill-fated adoption of some sea turtles that's both hilarious and touching."
---Thom Geier, Entertainment Weekly

"If you are a David Sedaris fan, any new book from the humorist is cause for celebration. His newest offering, Let's Explore Diabetes with Owls, is no exception. It's quintessential Sedaris....There's always a laugh-out-loud moment just around the corner."
---Craig Wilson, USA Today

"The funniest writer in America....Sedaris is thoughtful and sweet in addition to being slyly hilarious." ---Leigh Haber, Oprah



"This book is hysterical!"
—Reese Witherspoon

"David Sedaris has become a signifier of taste and intelligence....Let's Explore Diabetes with Owls was the kind of book that I finished and just immediately wanted to start reading again."
---Anna Peele, Esquire

"Fresh....funny, whimsical, unexpected, and never obvious....Who would anticipate that an encounter with an Australian bird could be so damn touching?"
---Sherryl Connelly, New York Daily News

"Ridiculously funny....A find for the reader who appreciates a sense of humor....Sedaris, like the great humorists before him, hits a nerve with his wit, which brings the reader into intimate contact with the human condition."
---John Henry, Fort Worth Star-Telegram

"An acute observer and master of the quick, excoriating takedown, Sedaris claims new territory in this exceptionally gutsy and unnerving collection."
---Donna Seamn, Booklist

"Hilarious....Winning....Sedaris's experiences are an endless source of good material." ---Danielle Trussoni, People