The Chronicles of Chrestomanci, Vol. I (Paperback)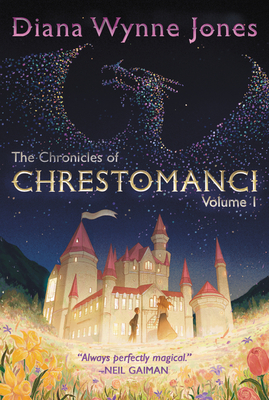 Other Books in Series
This is book number 1 in the Chronicles of Chrestomanci series.
Description
---
"Always perfectly magical." —Neil Gaiman
A timeless classic with brand-new cover art! Diana Wynne Jones's bestselling, magical, and funny Chrestomanci novels will enchant fans of Soman Chainani, Rick Riordan, and Chris Colfer.
Volume I contains Charmed Life and The Lives of Christopher Chant.
In Charmed Life, the first Chrestomanci book, the orphaned Cat Chant and his sister Gwendolen are taken to live at Chrestomanci Castle. There they are under the guardianship and tutelage of the Chrestomanci—a nine-lived enchanter who polices the many worlds of the multiverse. Gwendolen thinks highly of herself and her magical skills, but it soon comes out that Cat is the more powerful. He himself is a nine-lived enchanter and will one day take up Chrestomanci's job—if he and Chrestomanci can stop Gwendolen from wreaking havoc in multiple worlds.
The Lives of Christopher Chant is the story of Chrestomanci's own childhood and how he came to live at the Castle himself. With distracted parents, a nefarious uncle, and a severe guardian who was Chrestomanci before Christopher, it's no wonder that Christopher keeps losing his lives.
The first of three volumes, the Chronicles of Chrestomanci can be read in any order.
About the Author
---
In a career spanning four decades, award-winning author Diana Wynne Jones (1934‒2011) wrote more than forty books of fantasy for young readers. Characterized by magic, multiple universes, witches and wizards—and a charismatic nine-lived enchanter—her books are filled with unlimited imagination, dazzling plots, and an effervescent sense of humor that earned her legendary status in the world of fantasy.