Don't Turn Out the Lights: A Tribute to Alvin Schwartz's Scary Stories to Tell in the Dark (Paperback)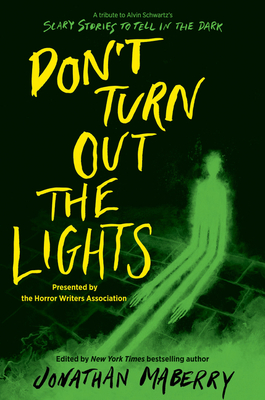 $7.99

Usually Ships in 1-5 Days
Description
---
Featuring stories from R.L. Stine and Madeleine Roux, this middle grade horror anthology, curated by New York Times bestselling author and master of macabre Jonathan Maberry, is a chilling tribute to Alvin Schwartz's Scary Stories to Tell in the Dark.
Flesh-hungry ogres? Brains full of spiders? Haunted houses you can't escape? This collection of 35 terrifying stories from the Horror Writers Association has it all, including ghastly illustrations from Iris Compiet that will absolutely chill readers to the bone.
So turn off your lamps, click on your flashlights, and prepare—if you dare—to be utterly spooked!
The complete list of writers: Linda D. Addison, Courtney Alameda, Jonathan Auxier, Gary A. Braunbeck, Z Brewer, Aric Cushing, John Dixon, Tananarive Due, Jamie Ford, Kami Garcia, Christopher Golden, Tonya Hurley, Catherine Jordan, Sherrilyn Kenyon, Alethea Kontis, N.R. Lambert, Laurent Linn, Amy Lukavics, Barry Lyga, D.J. MacHale, Josh Malerman, James A. Moore, Michael Northrop, Micol Ostow, Joanna Parypinksi, Brendan Reichs, Madeleine Roux, R.L. Stine, Margaret Stohl, Gaby Triana, Luis Alberto Urrea, Rosario Urrea, Kim Ventrella, Sheri White, T.J. Wooldridge, Brenna Yovanoff
About the Author
---
Jonathan Maberry is a New York Times bestselling and five-time Bram Stoker Award–winning author, anthology editor, comic book writer, executive producer, and writing teacher. He is the creator of V Wars (Netflix) and Rot & Ruin (Alcon Entertainment). His books have been sold to more than two dozen countries. To learn more about Jonathan, visit him online at www.jonathanmaberry.
R.L. Stine has more than 350 million English language books in print, plus international editions in 32 languages, making him one of the most popular children's authors in history. Besides Goosebumps, R.L. Stine has written other series, including Fear Street, Rotten School, Mostly Ghostly, The Nightmare Room, and Dangerous Girls. R.L. Stine lives in New York with his wife, Jane, and his Cavalier King Charles spaniel, Minnie. Visit him online at www.rlstine.com.
Christopher Golden is the New York Times bestselling author of such novels as Of Saints and Shadows, The Myth Hunters, Snowblind, Ararat, and Strangewood. With Mike Mignola, he co-created the comic book series Baltimore and Joe Golem: Occult Detective. He lives in Bradford, Massachusetts. 
Courtney Alameda is a writer, veteran bookseller, and librarian. Her debut novel, Shutter, was nominated for a Bram Stoker Award and hailed as a "standout in the genre" by School Library Journal. She also wrote the YA novel Pitch Dark—a Junior Library Guild selection—as well as Sisters of Sorrow, a comic book series she cowrote with Sons of Anarchy screenwriter Kurt Sutter. She holds a degree in English literature with an emphasis on creative writing. A Northern California native, she now resides in Idaho with her husband, legions of books, and a tiny five-pound cat with a giant personality. Learn more about her at www.courtneyalameda.com.
D. J. MacHale ("The Scout") is a bestselling author and is also a director, executive producer, and creator of several popular television series and movies. He lives in Southern California with his family, where they spend a lot of time backpacking, scuba diving, and skiing
Josh Malerman is the acclaimed author of Bird Box, as well as the lead singer and songwriter for the rock band The High Strung. He lives in Michigan.
Madeleine Roux is the New York Times and USA Today bestselling author of the Asylum series, which has sold over a million copies worldwide. She is also the author of the House of Furies series, and several titles for adults, including Salvaged and Reclaimed. She has made contributions to Star Wars, World of Warcraft, and Dungeons & Dragons. Madeleine lives in Seattle, Washington with her partner and beloved pups.
Margaret Stohl is the bestselling author of twelve books for children and teens, including coauthor of the #1
New York Times
bestselling Beautiful Creatures series. She also cowrites Mighty Captain Marvel for Marvel Comics. You can learn more about her at www.mstohl.com.
Tananarive Due (tah-nah-nah-REEVE doo) is an award-winning author who teaches Black Horror and Afrofuturism at UCLA. She is an executive producer on Shudder's groundbreaking documentary Horror Noire: A History of Black Horror. Her books include Ghost Summer: Stories, My Soul to Keep, and The Good House. She and her late mother, civil rights activist Patricia Stephens Due, co-authored Freedom in the Family: a Mother-Daughter Memoir of the Fight for Civil Rights. She is married to author Steven Barnes, with whom she collaborates on screenplays. They live with their son, Jason. 
Praise For…
---
"While some stories are eerie, others provide heart-pounding thrills. Bite-sized treats for young horror aficionados; best enjoyed on a dark night. Illustrations are gloriously evocative, adding delicious thrills." — Kirkus Reviews
"Each tale is creepy. Pithy and punchy...perfect to 'tell in the dark.'" — Horn Book Magazine
"Exceptional stories. A big variety of tone and style. I love this book." — Mother Horror (blog)
"A fitting tribute to Alvin Schwartz. There is is much fun to be had within these pages. A lovely gateway book into horror for many kids." — Ginger Nuts of Horror (blog)