The Tragical Tale of Birdie Bloom (Paperback)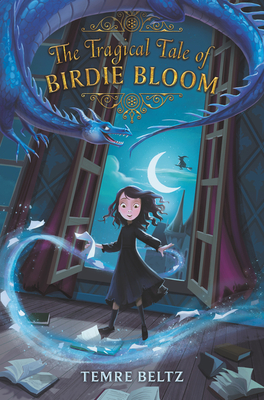 Description
---
A hilarious and heartwarming stand-alone middle grade debut, The Tragical Tale of Birdie Bloom is a whimsically fractured fairy tale perfect for fans of Shannon Hale and Adam Gidwitz.
In the fairy-tale kingdom of Wanderly, everyone has a role.
Birdie Bloom is a Tragical—an orphan doomed to an unhappy ending. Agnes Prunella Crunch is a witch. The wicked kind.
In Wanderly, a meeting between a witch and a Tragical can only end one way: tragically. But with the help of some mysterious Winds, a few wayward letters, and a very unusual book, the two might just form the kingdom's unlikeliest friendship—and together, rewrite their story into one that isn't very Tragical at all.
"I absolutely ADORED Birdie's story from beginning to end. The most charming book, footnotes and all!"—Liesl Shurtliff, New York Times bestselling author of Rump
About the Author
---
Temre Beltz used to work as a lawyer but never outgrew her childhood love of fairy tales. Temre lives in sunny California with her husband and two daughters. They love family road trips and are always on the lookout for adventure, ice cream, and books. She is the author of The Triumphant Tale of Pippa North and The Tragical Tale of Birdie Bloom. You can visit Temre online at www.temrebeltz.com.
Praise For…
---
"Charming and darkly funny, this debut has definite shades of Roald Dahl—it's a natural successor to Matilda and The Witches. Middle-grade readers who like their fairy tales playing against the rules and their adventure stories with a dash of humor will gobble this up." — ALA Booklist
"I absolutely ADORED Birdie's story from beginning to end. The most charming book, footnotes and all!" — Liesl Shurtliff, New York Times bestselling author of Rump
"Dragons, witches, and resourceful orphans? Magic, adventure, and friendship? There is so much to love about Birdie's tragical tale!" — Jessica Day George, New York Times bestselling author of the Tuesdays at the Castle series