Supergifted (Library Binding)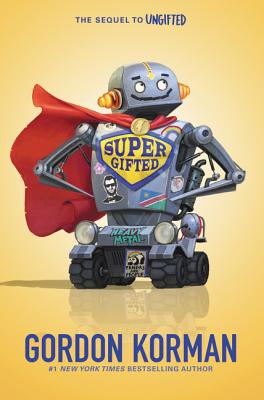 $19.68

Usually Ships in 1-5 Days
Description
---
This funny and heartwarming sequel to Ungifted, which has become a word-of-mouth hit, cleverly sends up our ideas about intelligence, heroism, and popularity. 
Donovan Curtis has never been what anyone would call "gifted." But his genius friend Noah Youkilis is actually supergifted, with one of the highest IQs around. After years at the Academy for Scholastic Distinction, all Noah dreams of is the opportunity to fail if he wants to. And he's landed in the perfect place to do it—Donovan's school.
Almost immediately, Noah finds himself on the wrong side of cheerleading captain Megan Mercury and alpha jock Hash "Hashtag" Taggart. Sticking up for Noah lands Donovan in the middle of a huge feud with Hashtag. He's told to stay away from the sports star—or else.
That should be the end of it, but when a freak incident suddenly makes Donovan a hero, he can't tell anyone about it since Hashtag is involved. So Noah steps in and becomes "Superkid." Now he's gone from nerd to titan at school. And it may have gone more than a little bit to his head.
About the Author
---
Gordon Korman published his first book at age fourteen and since then has written more than ninety middle grade and teen novels. Favorites include the New York Times bestselling Ungifted, Supergifted, The Unteachables, Pop, Schooled, and the Masterminds series. Gordon lives with his family on Long Island, New York. You can visit him online at www.gordonkorman.com.
Praise For…
---
"Humorous, relatable, and full of heart, Korman's gift for understanding the middle school mind is on full display." — School Library Journal
"Managing a large cast of characters with ease, Korman creates a comedy of compounded errors leading to a public disaster and, strangely enough, a happy ending." — Booklist
"Another chortleworthy outing from Korman." — Kirkus Reviews
Praise for MASTERMINDS: PAYBACK: "Packed with surprising twists, high-speed chases, and plenty of near misses." — Kirkus Reviews
Praise for MASTERMINDS: PAYBACK: "Korman's action-packed caper series comes to a satisfying close…with a masterful balance of humor, thought-provoking questions, and adventure" — Booklist
Praise for MASTERMINDS: CRIMINAL DESTINY: "A thrilling and fun series perfect for middle grade adventure seekers" — School Library Journal
Praise for MASTERMINDS: CRIMINAL DESTINY: "Cat-and-mouse chase scenes deliver thrills…Volume 3 can't get here soon enough." — Bulletin of the Center for Children's Books
Praise for MASTERMINDS: CRIMINAL DESTINY: "Packed with enough thrilling action and suspense to keep the pages turning...[a] highly entertaining series." — Booklist
Praise for MASTERMINDS: "A terrific page-turner. Full of unexpected twists and revelations. Buckle up." — James Patterson
Praise for MASTERMINDS: "Masterminds takes readers on a wild ride with terrific humor, a surprising mystery, and characters you can't help but root for." — Brandon Mull, #1 New York Times bestselling author of the Fablehaven series and the Five Kingdoms series
Praise for MASTERMINDS: "[A] compelling, twisty mystery . . . [with] a truly gratifying payoff" — Booklist (starred review)
Praise for MASTERMINDS: "This tense, fast-paced story will have readers racing toward the cliffhanger ending." — Publishers Weekly
Praise for MASTERMINDS: "A fresh premise, good pacing, surprising twists and engaging characters all combine to make this a series worth following." — Kirkus Reviews
Praise for MASTERMINDS: "This unique and action-packed story is filled with twists and turns that readers will not see coming. A wonderful start to what promises to be a thrilling series." — School Library Journal
Praise for UNGIFTED: "Touching, without being overly sentimental, Ungifted is a gem for readers looking for a story where the underdog comes out on top." — Voice of Youth Advocates (VOYA)
Praise for UNGIFTED: "From its lovable-robot jacket art to its satisfying conclusion, this will please Korman's fans and win him new ones." — ALA Booklist
Praise for UNGIFTED: "Donovan has a goofy kindness that charms characters and readers alike … The message is tolerance, and Korman expertly and humorously delivers it in an unpretentious and universally appealing tale." — School Library Journal
Praise for UNGIFTED: "Funny and insightful." — Publishers Weekly