The Big Game (Paperback)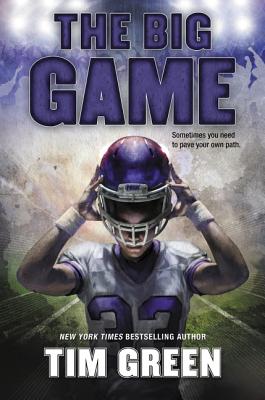 $9.99

Usually Ships in 1-5 Days
Description
---
New York Times bestselling author and former NFL defensive end Tim Green encourages readers to fight for their dreams in this heartfelt story about a young football star grappling with the stress of living up to his father's name. Perfect for fans of Mike Lupica!
Danny Owens is dedicating his seventh-grade season to his Super Bowl champion father, who recently passed away. Danny promises everyone that, just like his dad, he'll dominate the big game at the end of the season and earn a spot on the high school varsity team.
Then his English teacher catches him cheating on a test. Even though Danny can retake it, he knows there's no point. He can't read. And if Danny can't pass this class, he won't be eligible to play in the championship game that could unlock his future.
While his resentment rises against the only person willing to help him win off the field, the pressure to succeed begins to weigh heavily on Danny's shoulders. Danny is being tested on every level now, and to pass, he may very well have to choose a different path from his father's.
About the Author
---
Tim Green, for many years a star defensive end with the Atlanta Falcons, is a man of many talents. He's the author of such gripping books for adults as the New York Times bestselling The Dark Side of the Game and American Outrage. Tim graduated covaledictorian from Syracuse University and was a first-round draft pick. He later earned his law degree with honors, and he has also worked as an NFL commentator for FOX Sports and NPR.
His first book for young readers, Football Genius, inspired in part by his players and his own kids, became a New York Times bestseller and was followed by Football Hero, Football Champ, The Big Time, and Deep Zone. He drew on his experiences playing and coaching Little League for Rivals and Pinch Hit and two more New York Times bestsellers: Baseball Great and Best of the Best.
Bestselling author Jon Scieszka called Tim Green's Unstoppable, a book about a boy's struggle with cancer that debuted at #2 on the New York Times bestseller list, "Absolutely heroic. And something every guy should read."
Tim Green lives with his wife, Illyssa, and their five children in upstate New York.