Store Updates
Due to the recent surge in COVID-19 cases and the spread of the Omicron variant, WordsWorth Books will now require customers to mask inside our store, regardless of vaccination status. We will continue to offer curbside service for those who prefer not to come into the store. Thank you for your consideration!
The Plague of Doves (Compact Disc)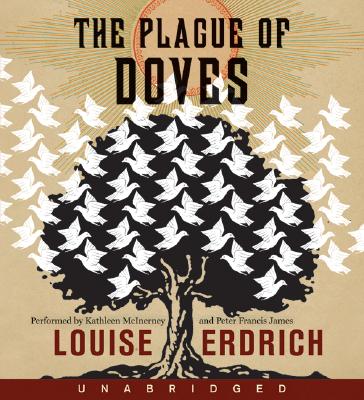 $39.95
Email or call for price
Spring/Summer '09 Reading Group List
---
"Louise Erdrich's latest spans a century in the small town of Pluto, North Dakota. It begins with a murder and a wrongful lynching, and then follows the descendants of those involved. The Plague of Doves showcases her trademark blend of pathos, comedy, magical realism, and epic narration, and it's a novel I will read again just to admire the skill with which all the pieces of the puzzle gently fall into place. Highly recommended."
— Dana Schulz, Snowbound Books, Marquette, MI
Indie Next List Highlights 2008
---
"Louise Erdrich's complex history of the families in a North Dakota, mixed-blood, reservation town reveals its secrets slowly through the unique voices of the community. These characters require us to pay attention and move from psychological and philosophical musing to delightful storytelling full of magic and intrigue. Thoroughly enjoyable."
— Kathleen Costello, Maria's Bookshop, Durango, CO
Description
---
Louise Erdrich's mesmerizing new novel, her first in almost three years, centers on a compelling mystery. The unsolved murder of a farm family haunts the small, white, off-reservation town of Pluto, North Dakota. The vengeance exacted for this crime and the subsequent distortions of truth transform the lives of Ojibwe living on the nearby reservation and shape the passions of both communities for the next generation. The descendants of Ojibwe and white intermarry, their lives intertwine; only the youngest generation, of mixed blood, remains unaware of the role the past continues to play in their lives.
Evelina Harp is a witty, ambitious young girl, part Ojibwe, part white, who is prone to falling hopelessly in love. Mooshum, Evelina's grandfather, is a seductive storyteller, a repository of family and tribal history with an all-too-intimate knowledge of the violent past. Nobody understands the weight of historical injustice better than Judge Antone Bazil Coutts, a thoughtful mixed blood who witnesses the lives of those who appear before him, and whose own love life reflects the entire history of the territory. In distinct and winning voices, Erdrich's narrators unravel the stories of different generations and families in this corner of North Dakota. Bound by love, torn by history, the two communities' collective stories finally come together in a wrenching truth revealed in the novel's final pages.
The Plague of Doves is one of the major achievements of Louise Erdrich's considerable oeuvre, a quintessentially American story and the most complex and original of her books.