Death at La Fenice: A Commissario Guido Brunetti Mystery (Paperback)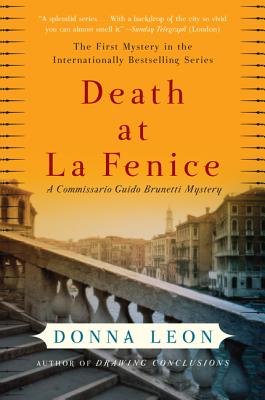 Description
---
Available in paperback for the first time, the first book in the internationally bestselling Guido Brunetti detective series in which a high society murder leads the detective

Beautiful and serene Venice is a city almost devoid of crime. But that is little comfort to Maestro Helmut Wellauer, a world-renowned conductor whose intermission refreshment comes one night with a little something extra in it--cyanide. For Guido Brunetti, vice-commissario of police and genius detective, finding a suspect isn't a problem; narrowing the large and unconventional group of enemies down to one is. As the suave and pithy Brunetti pieces together clues, a shocking picture of depravity and revenge emerges, leaving him torn between what is and what should be right--and questioning what the law can do, and what needs to be done.
About the Author
---
Donna Leon has written four previous Guido Brunetti novels, Death and Judgment, Dressed for Death, Death in a Strange Country, and Death at La Fenice, which won the Suntory Prize for the best suspense novel of 1991. She teaches English at the University of Maryland extension at a U.S. Air Force base near Venice Italy, where she has lived for over twenty years.
Praise For…
---
"Donna Leon's Venetian mysteries never disappoint, calling up the romantic sights and sounds of La Serenissima even as they acquaint us with the practical matters that concern the city's residents."
— Marilyn Stasio, New York Times Book Review

"Guido Brunetti can ride in my gondola anytime. What a splendid detective."
— Susan Isaacs, author of After All These Years

"Donna Leon has given fans of subtle, clever and literate mysteries something to cheer about...A wonderful read."
— Tony Hillerman

"A challenging mystery, a sophisticated drama, and a unique glimpse of a medieval society that stilll flourishes."
— St Louis Post-Dispatch

"A gripping first mystery, as beguiling and secretly sinister as Venice herself. Sparkling and irresistible."
— Rita Mae Brown

"[A] piquant mixture of opera, food and Venetian scenery."
— Chicago Tribune